If #beachselfies are the secret to your success as an Instagram Influencer, then we've got bad news for you. Coastal erosion, thanks to climate change, are making beaches disappear. Say goodbye to those long sunbathing sessions and start dusting up those resumes. The UN has announced that one million species are under immediate threat of extinction. So, along with your favourite holiday destinations, there's a ton of biodiversity poised to disappear if we don't change our consumerist ways soon.
Art Fervour reached out to leading artists, curators, design studios and galleries and asked them to share their favourite environmentally charged works of art. And they didn't disappoint. We bring to you their mind-blowing recommendations with the hope that it inspires you as much as it did us.
Akar Prakar
The good folks at Akar Prakar, a national gallery with presence in Kolkata and Delhi, shine a spotlight on the art of Kolkata based Jayashree Chakravarty: "Her art is at a cross between animalhood and planthood. It's as if a sample of all things had been thrown into the fiery crucible of creation: thick Nepalese paper, seeds, dry leaves, natural dyes, pearls, clay and fabric.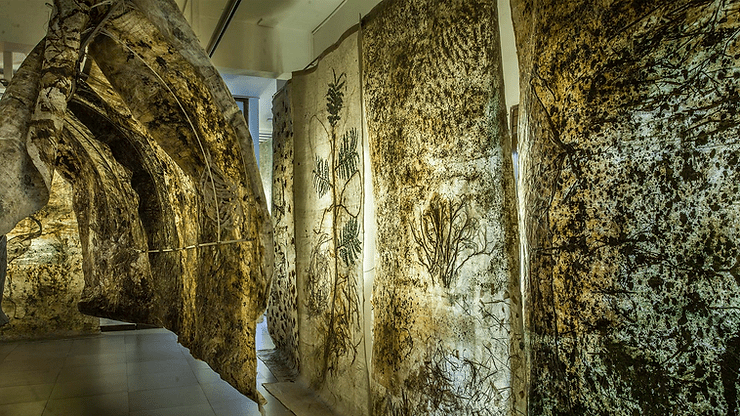 Frocks of precious liveries, shell screens as refined as the delicate sheets of alabaster found in ancient sanctuaries and the artist's large leaves of paper adorn the rotunda windows filtering out the noise of the world while merging them into soft halo of light. At the centre a ripple, a strange and sweet dance is underway. The preparatory drawings, swiftly sketched with a felt pen, vibrate and quiver depicting quite perfectly the mutations of a thought turned into gesture."
Cornah Willis
Cornah Willis, a manager at Christie's, says, "Stephanie Quayle's spirited animals are made from organic materials. Her work explores the tension between man and beast. I enjoy their raw form and the thought – they can disappear into the earth, once again, as clay."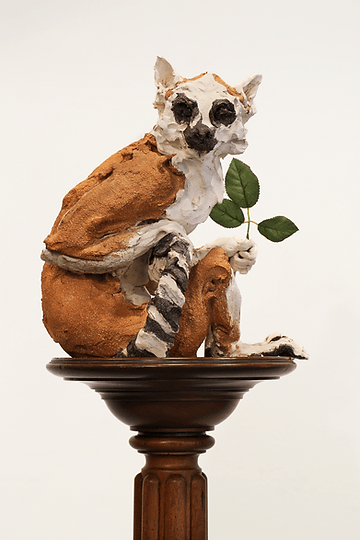 The Space at 9/2
The founders of Kolkata based concept design studio The Space at 9/2 are fascinated by the art of Thomas Dambo. They say, "These giant sculptures (literally) are made from recycled materials and scavenged wood. It's a community effort to find these materials and build the pieces. This series is scattered across Copenhagen and encourages people to go on a treasure hunt to find them. Kinda cool way to rethink waste and rekindle your love with nature."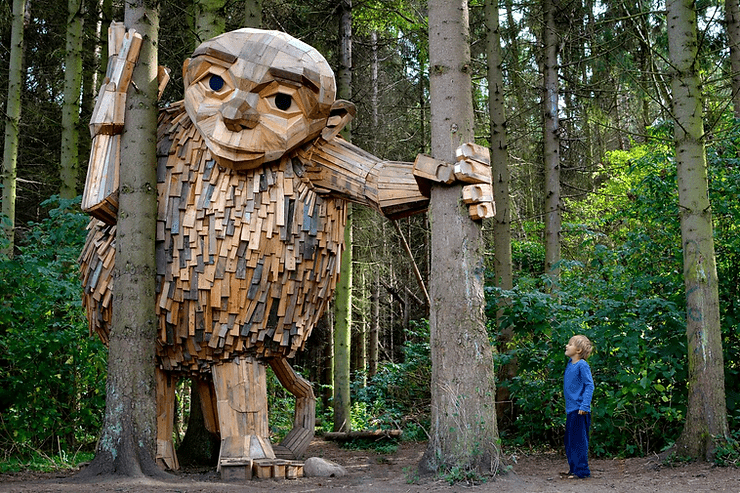 Tarq Gallery
Mumbai based Tarq Gallery highlighted the trash to treasure works of Boshudhara Mukherjee. They said, "Much as old clothes are salvaged, repaired and reused, she reworks old canvases and finished pieces. The tradition of recycling is common in India with quilts made from old saris or flat-woven dhurries made from scraps of cloth.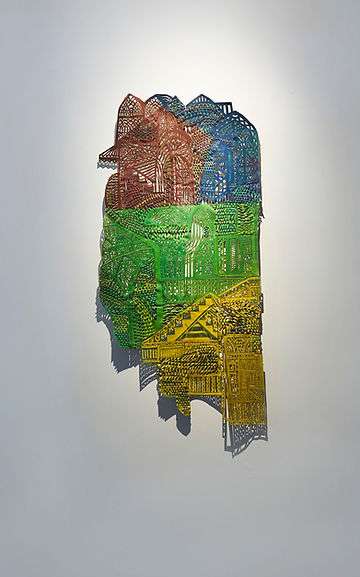 The reworking of her pieces is also in response to memories ― a friend's wedding card, a discarded section of wallpaper from her mother. Placing older work in conversation with the new, Boshudhara creates an almost autobiographical piece, an understanding of her own practice that allows for innovation, appropriation and constant re-imagination. Reconfiguring her works, infusing them with new meaning, gives Boshudhara the freedom of discovery each time a work reinvents itself."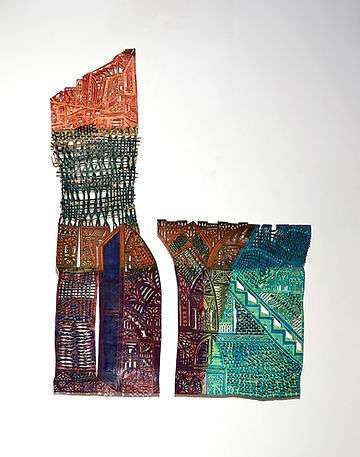 Michelle Poonawalla
Michelle Poonawalla finds fellow artist Garima Gupta's works, stemming from her in-depth research in ornithology and the human-wildlife interface primarily in the Southeast Asian archipelago, to be engrossing. She says, "She looks at the impact of Imperial history on the region's biodiversity, especially the devastating impact created by the demands for exotic species from the region. Her sketches are an archive of the diversity of wildlife in the region and a reminder of what is at stake."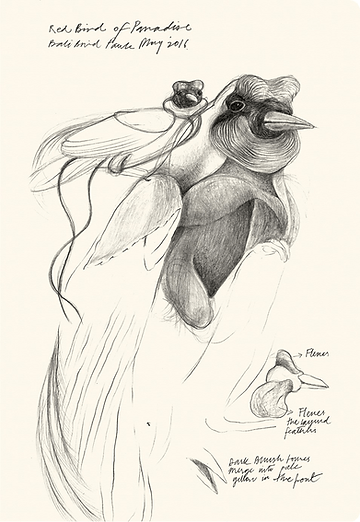 She's also captivated by the works of Baroda based artist Lavanya Mani. Mani's expertise with the traditional craft of Kalamkari to create large-scale reflections of the natural world, inspired by Persian texts and Mughal miniatures, are enchanting. Poonawalla says, "The evocative images as well as the hand-painted technique of Kalamkari are a reminder of the wonders of the natural world as well as statement against the culture of mass production that dominates our culture today."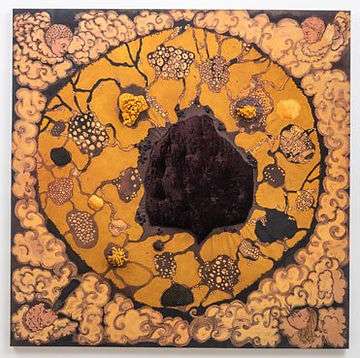 Poonawalla herself is in the process of finalising a large-scale installation meant to draw attention to the deathly serious problem of pollution plaguing Indian cities. She says, "As a parent, I look at the air quality around us and worry for my children playing outside. The simplest childhood pleasure is in jeopardy and at the global scale, the issue of industrial-scale air pollution is threatening the planet. Take a Breath will be an installation with an immersive quality, which I envision will encourage a conversation around this issue."
We hope that these diverse and captivating recommendations from different corners of the country and the globe inspire you to spend a World Environment Day steeped in the beauty of art and that of the natural world. Now log off Instagram and get to saving the world.