Art Fervour asked 3 art collectors to share their favourite pieces from some of India's finest Contemporary Artists showcased at Palette Art Gallery.
We are at a stage where art of all kinds is a derivation of inspiration; an inspiration stemming from social experiences, cultural nuances, existing political situations or even a fragment of their childhood memory. Artists mould these with their imagination to create art that is a peek into their perspective in turn becoming a part of our story.
All Things Contemporary
One such collection of art that is pushing the boundaries of contemporary art and bringing it straight to your door step is Collective 22. This massive umbrella houses artworks by 22 renowned Indian contemporary artists spanning across different generations and showcasing different strokes of experiences. An online as well as offline exhibition showcased at Palette Art Gallery, Delhi this group show celebrates a series of hand-picked contemporary paintings and sculptures.
From their memories, to yours
The Collective 22 is special, not only because it makes art from some of India's leading artists accessible on a single platform, but also because it shares tit-bits of their motivation as artists. For Prasad KP, his art was influenced by the purity and beauty of the village in Kerala from where he hails, while Anju Dodiya's art comes from an investigation into the self and archives of heroism.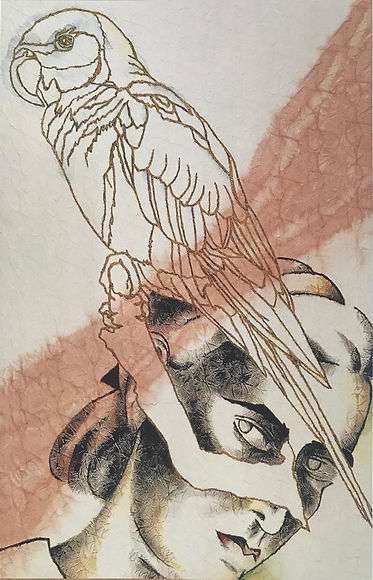 Then there are inspirations straight from nature like for Saravanan Parasuraman. Saravanan draws from his constantly evolving knowledge of environmental realisation. Meanwhile Pooja Iranna makes a statement through her ongoing series 'Unremitting expansion' which creates a montage on the ever expanding urbanism rampant throughout the globe.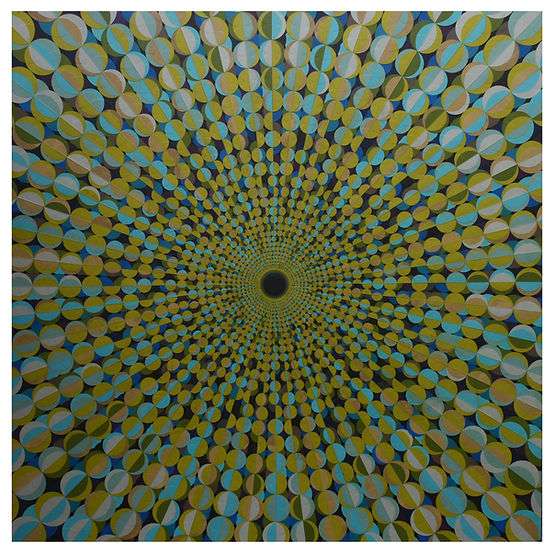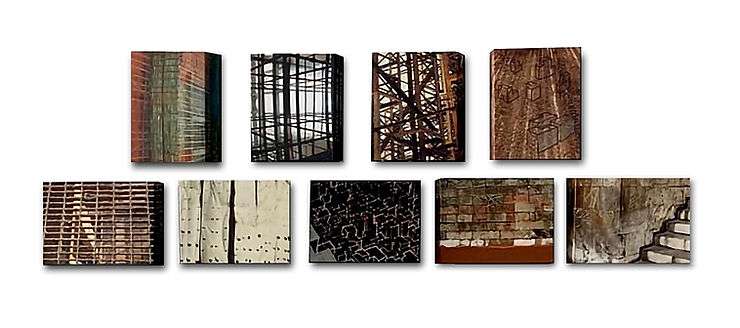 We ask ourselves, what is a cultural nuance that isn't documented in a cult film or a classic book? We believe Atul Dodiya asks the same questions as he portrays similar contexts through his art while luring us in with his quirky title references.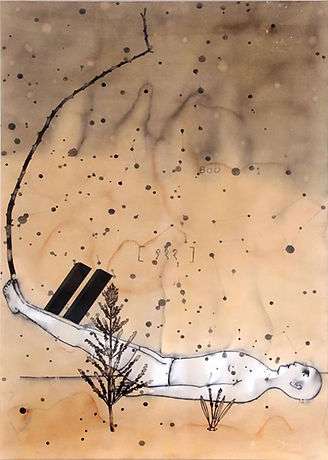 You might look at a T&T work and be bright-eyed at the riot of colours, but all Thukral and Tagra artworks, at their core, make a comment on escapism. Their works are the result of an engagement with the prevalent subjects of migration and farming, and a representation perhaps of the perpetual dream of flying far away to a foreign land.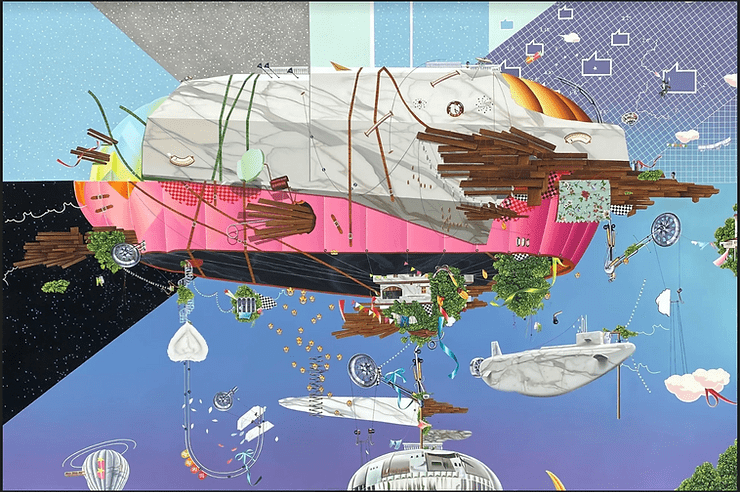 While some motivations are external, for Ganesh Selvaraj it was more about the internal journey of the "known" – of our preconceived notion of nature, objects and forms, if you will. His artworks are a direct introspection of this journey. He asks, "What exactly do we see without that knowledge"?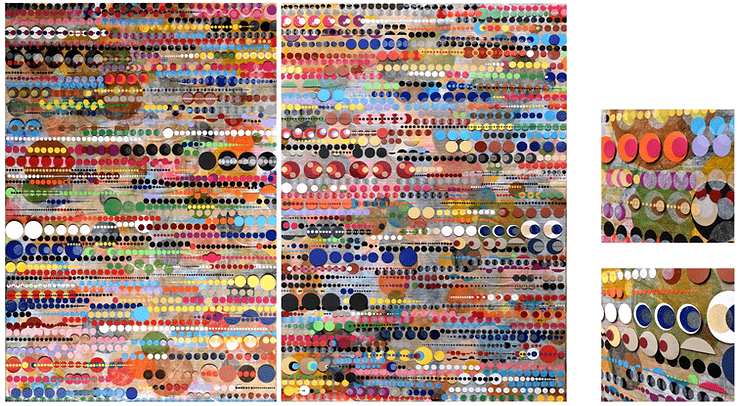 The Inspired
The list goes on and so does the spectrum of memories of these beautiful artists. We asked three ardent art lovers and collectors to pick their favourite artwork from the collection and tell us what about this artist's work inspired them.
Sanjeev Kumar Bijli, the Joint MD at PVR cinemas, knows his visuals. He is fascinated by GR Iranna's colourful and vibrant strokes and already owns two of his artworks sourced from Palette. Sanjeev is now committed to acquiring Iranna's 'Sidharth' for his personal home. He says, "There is a sense of calm that emanates from his canvases. The trees and monks represent peace, nature and positivity. It just brightens up any room."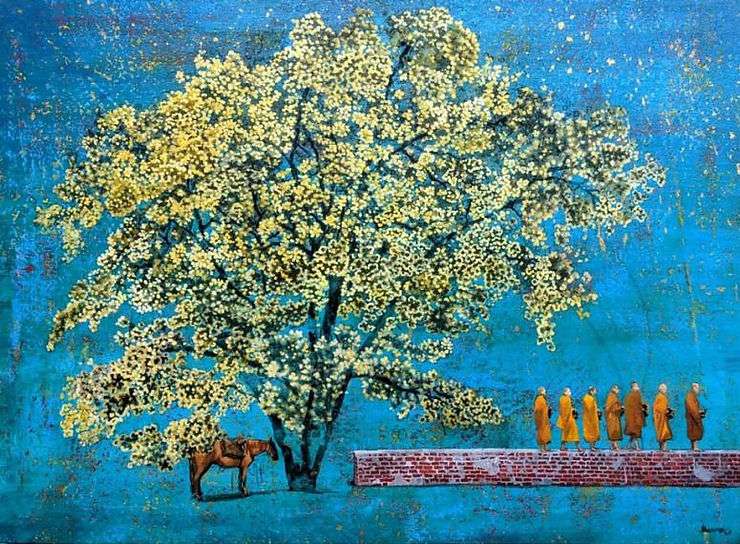 For Archana Vijaya, a TV presenter and Founder of Label Kiss, it is Vibha Galhotra's 'Life on Mars'. She has always been intrigued by Vibha's works, and being a designer herself, Archana loves the play of traditional elements like the Ghungroo to create an installation as unique as this. When asked what emotion she felt when she first saw this piece by Vibha, she fondly said, "Astonishment!".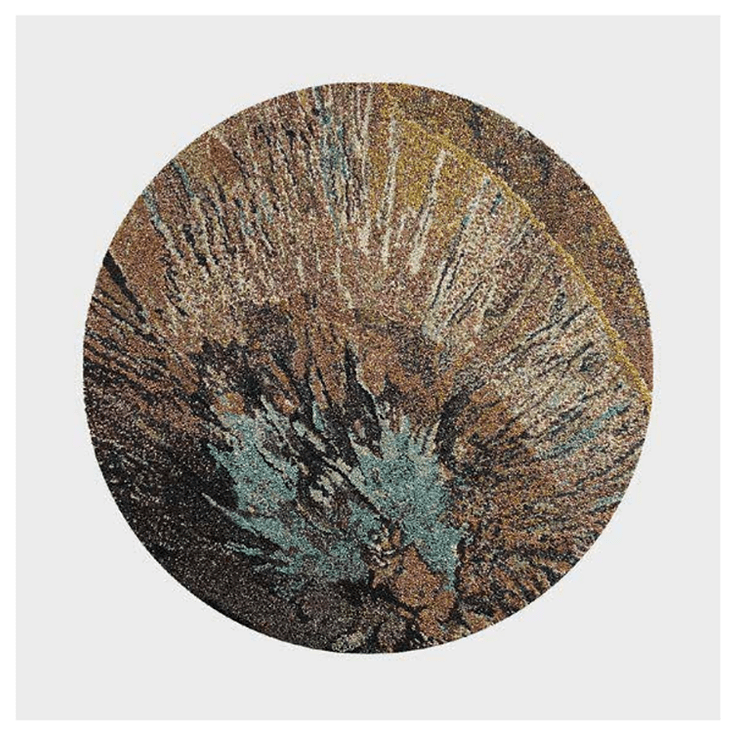 Malini Ramani needs no introduction. This fashion designer is the definition of luxury and aesthetic in India. She was quickly drawn to Manjunath Kamath's 'Within the context' from Palette Art Gallery's Collective 22. She describes the visual as whimsical. She tells us that for those few moments she finds herself transported into an alternate universe filled with fantasy, fun and magic.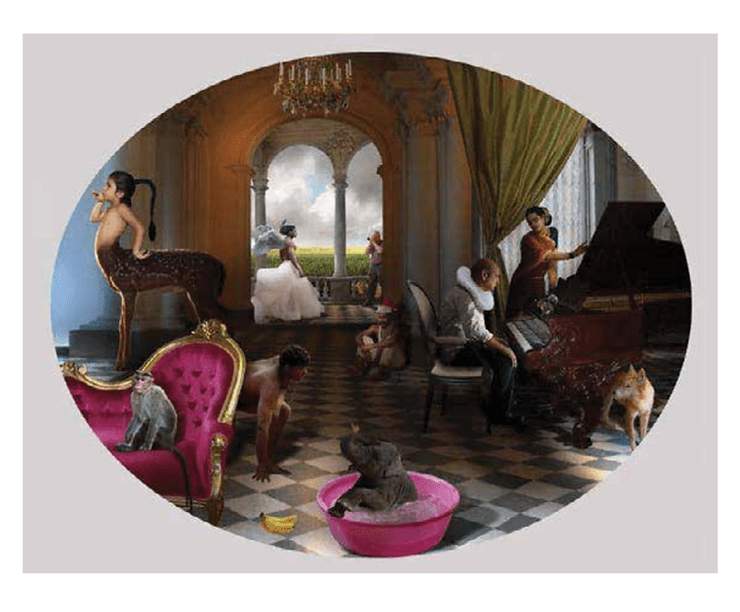 While these three have set their sight on bejewelling their spaces with their favourite pick from the Collective 22 group show, Palette Art Gallery invites you to find your own favourite. There is no catch-22 to owning a prized possession from Collective 22!
Find yours at Pallete Art Gallery or visit their Delhi gallery space