While we've provided you film recommendations based on your art persona as well as films based on the lives of artists that you must watch, today we've got something a little different for you: a list of international T.V. Shows which reference art history and iconic artworks. We also recommend watching each of these shows because let's face it, they're amazing.
Van Gogh's (supposed) final painting spotted in the Simpsons? Now in its 31st Season, The Simpsons is the longest running show on American prime-time, running since December 1989 and still going strong in 2019. The animated sitcom has been the holy grail of pop culture references almost predicting a number of global events. Taking all of that into consideration, it's not surprising that the show references a number of iconic artworks throughout its long tenure. Here are some of our favourite moments. In season 1, episode 11 titled "Crepes of Wrath", Bart drives through a number of iconic paintings including works by Monet, van Gogh, Manet, Rousseau and more while driving through France.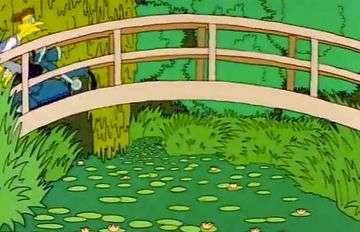 Fun Fact: Claude Monet was a passionate horticulturist and actually imported water lilies to grow in his pond in Giverny. Not only did he paint the 'Bridge over a Pond of Water Lilies', he literally created the pond of water lilies, lying under the bridge.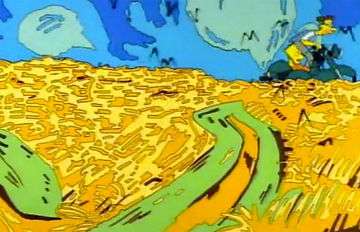 Claimed to be van Gogh's last painting, in 'Wheatfield with Crows', the depression and anguish is reflected in the dark blue hues of the sky and crows, often considered to be a symbol of death along with ravens.
The season premier of The Simpsons 21st season titled "Homer the Whopper", features Homer Simpson as "Everyman", a superhero who takes powers from every other superhero. The episode also features Picasso's 'Guernica' getting vandalised out in public.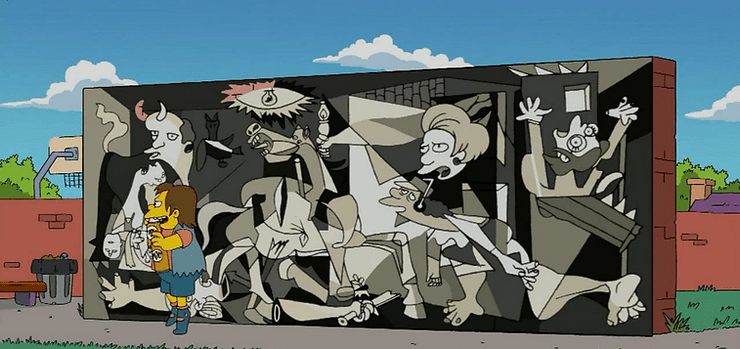 In season 10, episode 19 titled "Mom and Pop Art", Marge and Homer visit a gallery where they come across one of Warhol's Soup Cans after which Homer falls asleep (typical Homer Simpson, amirite?) in the gallery itself. Long story short, Homer awakes from his dream screaming "Andy, no!!" and his hand has punched through a Warhol painting of soup cans. (typical Homer Simpson part 2)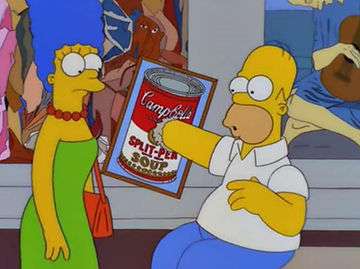 Salvador Dali's face of resistance in Money Heist
As the most-watched non-English series on Netflix and one of the most-watched overall series on Netflix, Money Heist (or Casa de Papel in Spanish) is a must-watch if you haven't already. Central to the series are the masks worn by the robbers. The robbers are clothed in red overalls and Salvador Dali face masks. The costumes not only play a role in hiding their identity but also serve as a physical symbol of the show's theme, resistance towards the system. Dali's face as a mask in particular is a premeditated move. Expelled from art school for refusing to sit for his final exams, rebelling against modern societal norms. A lot of the Spanish artist's works were created with ideals rejecting modern capitalist society.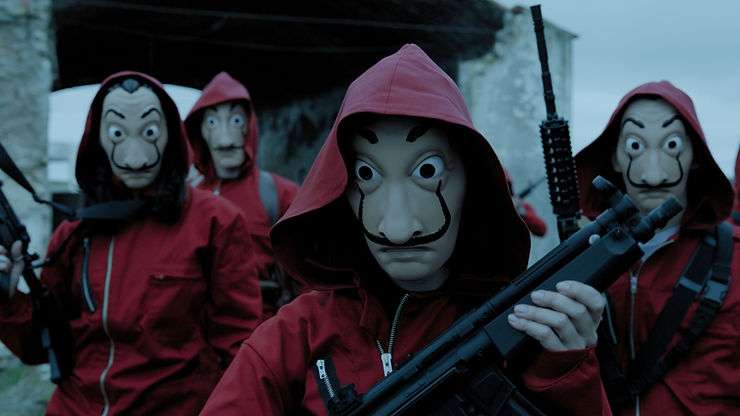 The significance doesn't end there though. There is an uncanny connection between the Professor (leader of the heist) and Salvador Dali. When asked by the inspector for his name, he replies, "Salva", short for Salvador. More so, Dali believed throughout his life that he was the reincarnation of his elder brother who died 9 months before the artist's birth. His mother passed away when he was 16, referring to the situation as "the greatest blow I had experienced in my life." In the show, the Professor also mentions that his father had been shot dead while robbing a bank. The entire heist was a homage to his father and he was simply carrying out his plan.
This along with the bizarre (and frankly somewhat scary) expression made the Dali mask a perfect fit for this gripping series.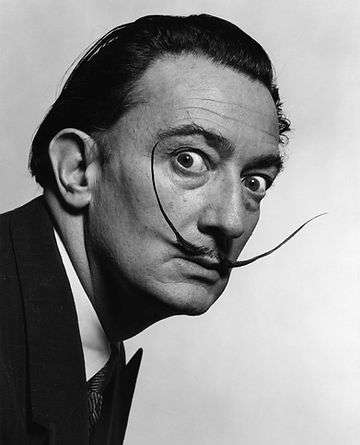 Horsin' around with David Hockney
When Bojack Horseman first aired in 2014 it received mixed reviews from critics. Since then, the adult comedy series has been widely celebrated by millennials for its satirical take on the entertainment industry and its realistic interpretation of depression, anxiety, trauma, sexism, racism, and many more contemporary issues.
When I first tuned into the show, the first thing I noticed was the interpretation of David Hockney's 'Portrait of an Artist (Pool with Two Figures). Like The Simpsons, Bojack is filled with pop culture and art history references which is what makes this show as relatable as it is. But in keeping with the show's theme wherein realistic professions are carried out by animals, the human portraits in these paintings are switched with animal figures. Here are some of our favourite artworks that appear throughout the show.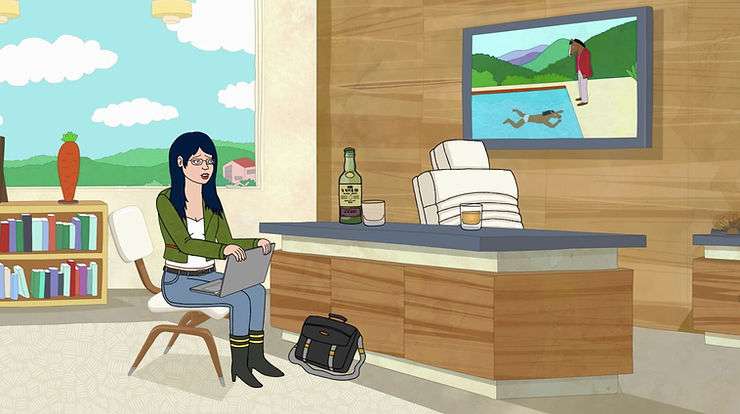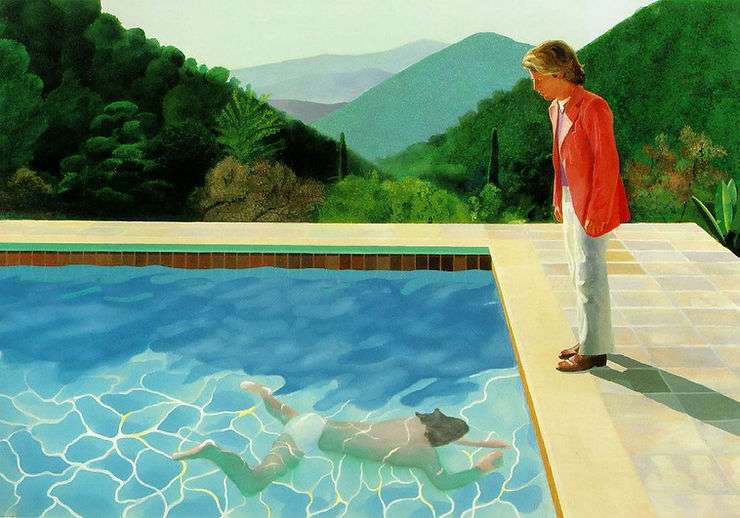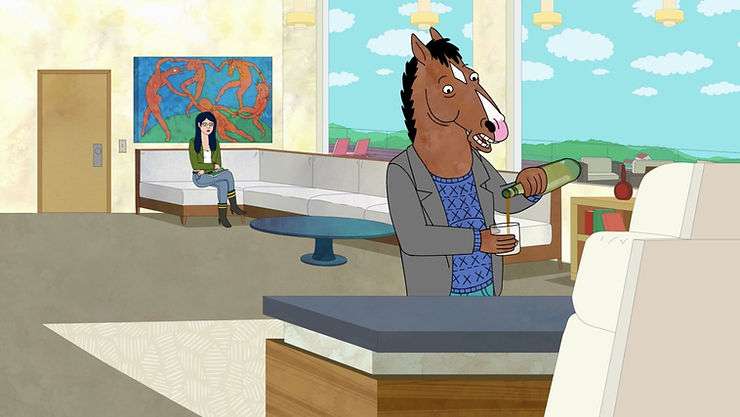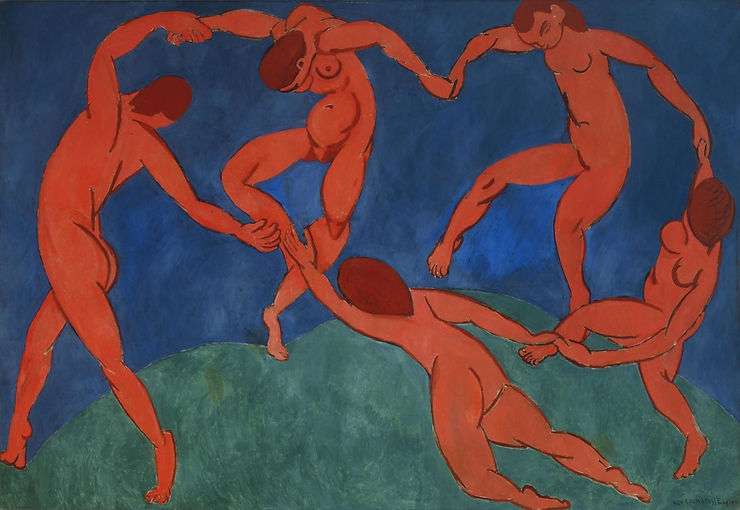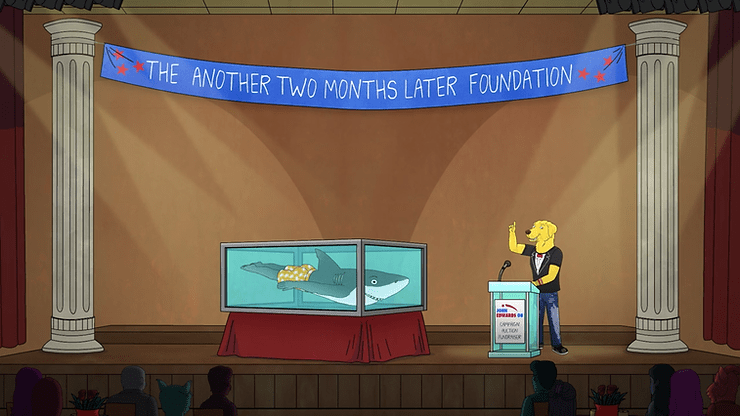 A little bit of the 40s in That 70's Show
The show that hardly needs any introduction and I'm not even going to try.
In season 1 episode 8, "Drive in", the episode ends with Kitty and Red played by Debra Jo Rupp and Kurtwood Smith respectively, enjoying a cuppa at a classic American diner. There's something about that yellow light in the background, Kitty's red dress and Red's brown hat that just seems so familiar but impossible to pinpoint. Luckily, the writers of the show didn't leave that to us viewers to decipher. As the scene ends, the camera zooms out to reveal Edward Hopper's iconic 'Nighthawks', painted in 1942.
Don't forget to watch till the end!
This is our list of iconic artworks that we spotted on our favourite TV shows. Have you spotted anymore artworks on your favourite TV shows? Let us know in the comments section!