"I've always loved chairs! They have arms and legs, like people." – David Hockney
To many, a chair is a sensory experience that merges ergonomic design with styles borrowed from movements such as art deco, art nouveau and ornamentation, as well as functional systems such as Bauhaus.
This ubiquitous object has been a large part of human history, surrounding us through our everyday life. And much like the study of art, the importance of objects such as the chair has been pertinent to art historians, cultural scientists, industrial designers and anthropologists alike whose deep dives into its relevance colours much of our understanding of conceptual art and material culture. From affirming our many intentions of rest and relaxation to productivity and attention, the chair provides a slight nod towards luxury or ornamentation.
Where it began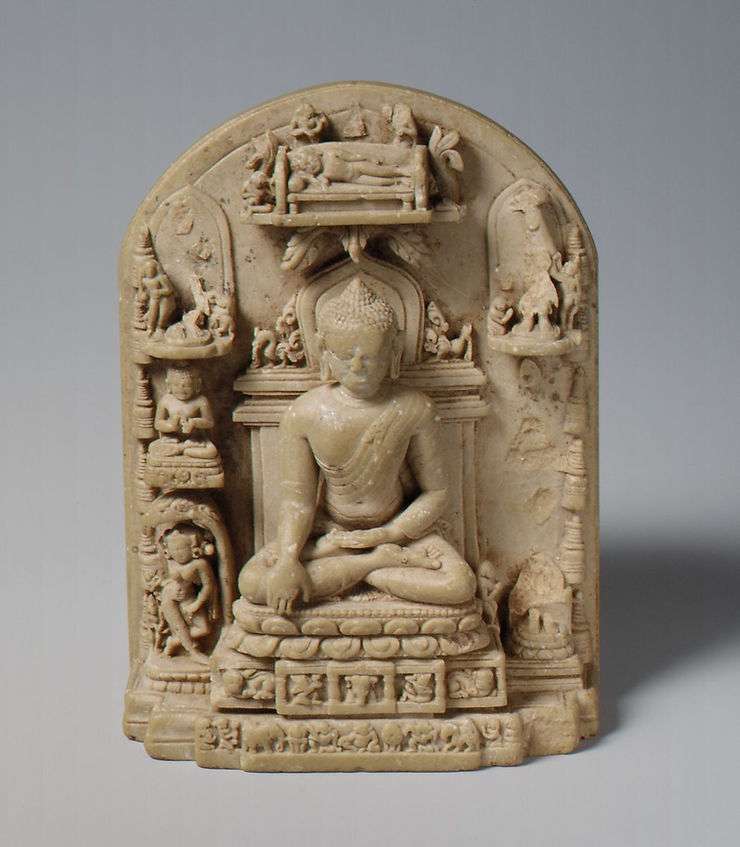 The history of Indian seating has been found in studies of early 200BC Buddhist relief sculptures that show a seated buddha meditating. Later research into the material used for furniture-making indicates the use of over 14 species of wood, pointing to the first dated use of chairs or stools.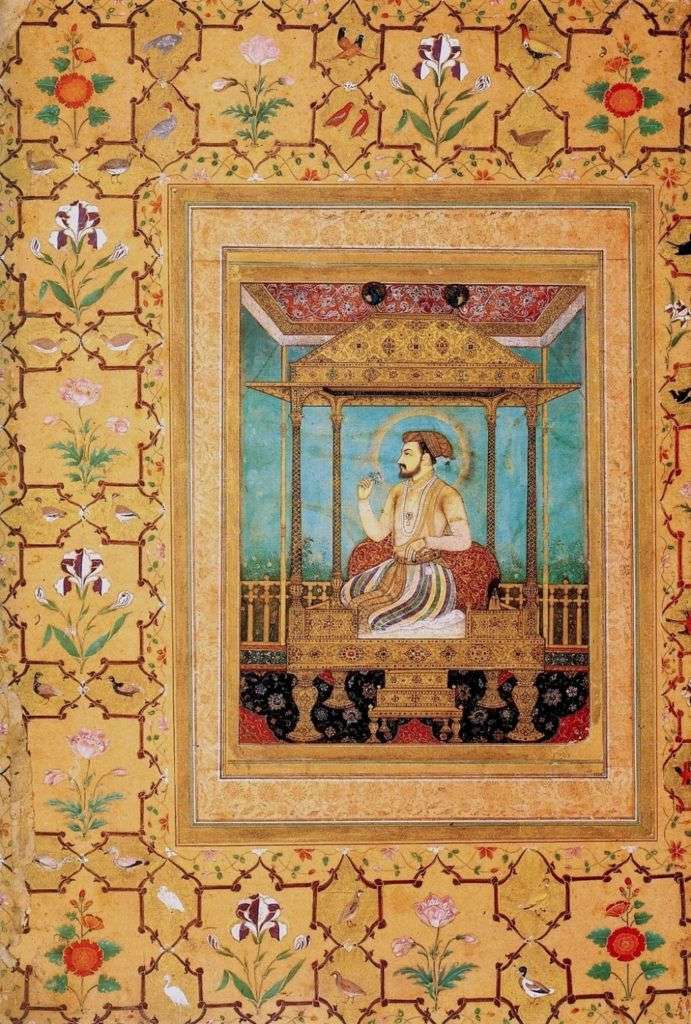 The opulent and lavish Peacock Throne or Takht-i-Taus has been universally credited for its immaculate beauty and regal design. It was one of the most jewelled ornamental items of the 17th century, with over 500lbs of precious gemstones embedded in gold. We know this because of a detailed account in exquisite penmanship from the painters present during the Mughal era.
Mughal miniatures are known for their bright colours and are highly detailed works on Wasli paper. Their pastel pigments found on occasion with strokes of gold are a national treasure and reflect the strong Persian influence that the Mughals brought to India.
To art historians, these paintings serve as evidence of history and contribute to much scholarship study in circles beyond the humanities.
Seating Through History
What began as seating on raised wood travelled through time, later informing us of the history of human invention by touching upon markers of economic separation and class. With the absence of formal industrial design, the penurious lacked the facility to acquire chairs, continuing to wait wearily in line for affordable options. This is not to say that opulent and embellished design did not exist throughout history for the throne has been documented and recognised for its distinct global style and decoration.
Glancing at the style of a throne in a painting can help you identify a rich trove of facts such as the year in which the work was commissioned, the geographical and cultural landscape where the work was created, the preferred technique of painting and so much more. The Ottoman Chair, first introduced into Europe through Turkey in the late 18th century, continues to be part of our design vocabulary and is universally recalled as a kind of chair hinting at its region of origin. Though now, the Ottoman remains an accompaniment to the popular American designed lounge.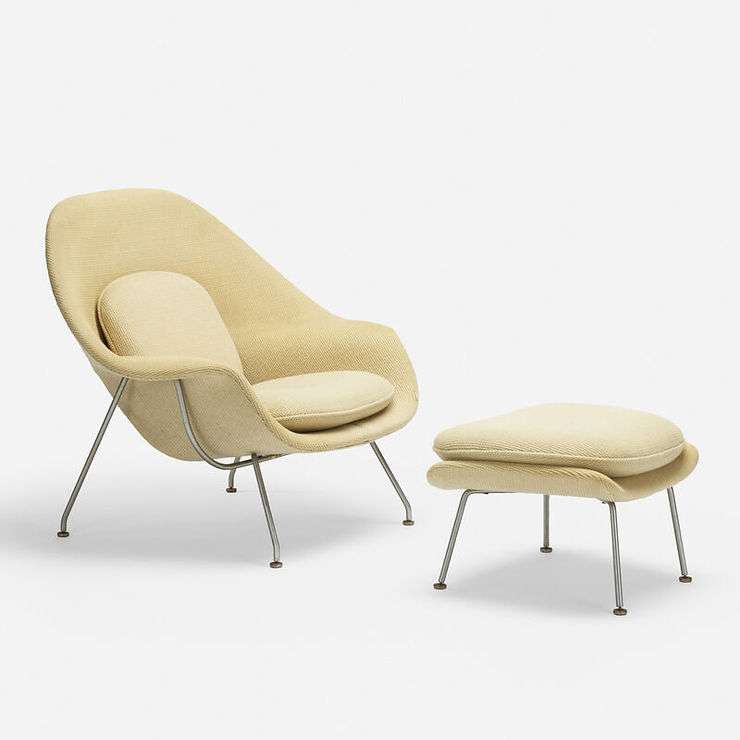 You can see padded seats, heaped with cushions and rugs, in many of the Oriental paintings created by Jean-Leon Gerome, Ferdinand Roybet, and Ferdinand Max Bret, to name a few from the cannon. Criticised for their particular interest and erotic Occidental documentation of the countries they visited, these artists offer us glimpses of the cultural upholstery and aesthetic language of the region. A Chair For Your Thoughts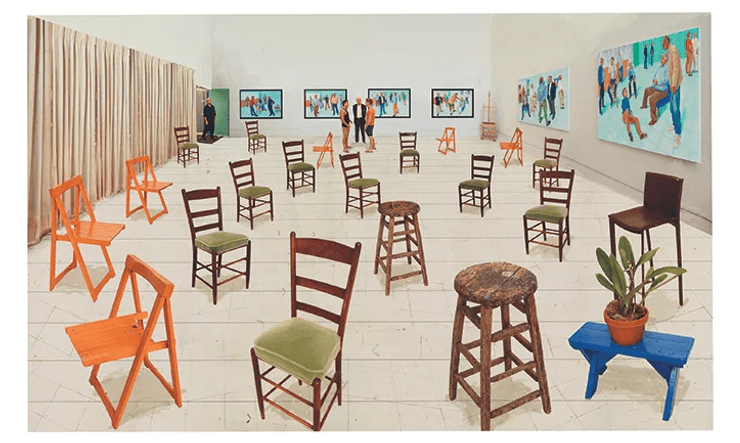 There exists works of art where the chair as an object comes to life, commanding our investigation. The warm chair seat has found itself as an extension of the artist's portraits, giving viewers an insight into the private lives and idiosyncrasies of the artists' subjects and sitters.
In 1988, Vincent Van Gogh painted a pair of chairs, one of which belonged to his mentor, Paul Gauguin with whom he shared a turbulent relationship. Meant to be hung next to one another, they serve as portraits into the once pleasant friendship Gauguin and Van Gogh shared and a testament to the lives they once lived.
Art historians have even pointed to the vacant space of the chair as a signifier of human absence and warmth; a reflection on and homage to their relationship.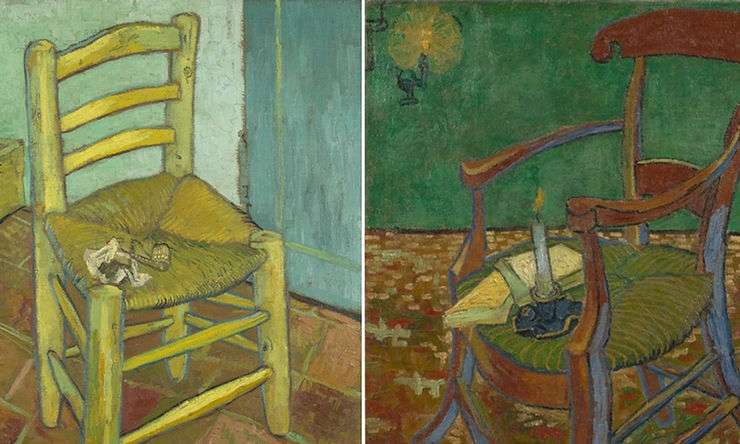 Even the popular painting of Van Gogh's Bedroom makes our eyes move towards the wooden chairs placed arbitrarily across the room. While brush strokes, and studies in light and shadow paired with a rigorous still-life art practice may contribute to pages and pages of chair sketches, how can we place the object of a chair as an important part of the art canon?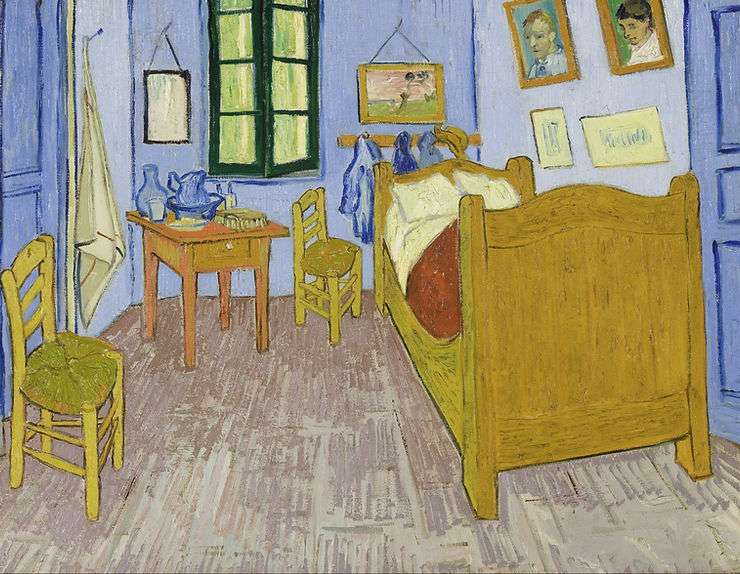 A Seat for the Artist, Subject and Viewer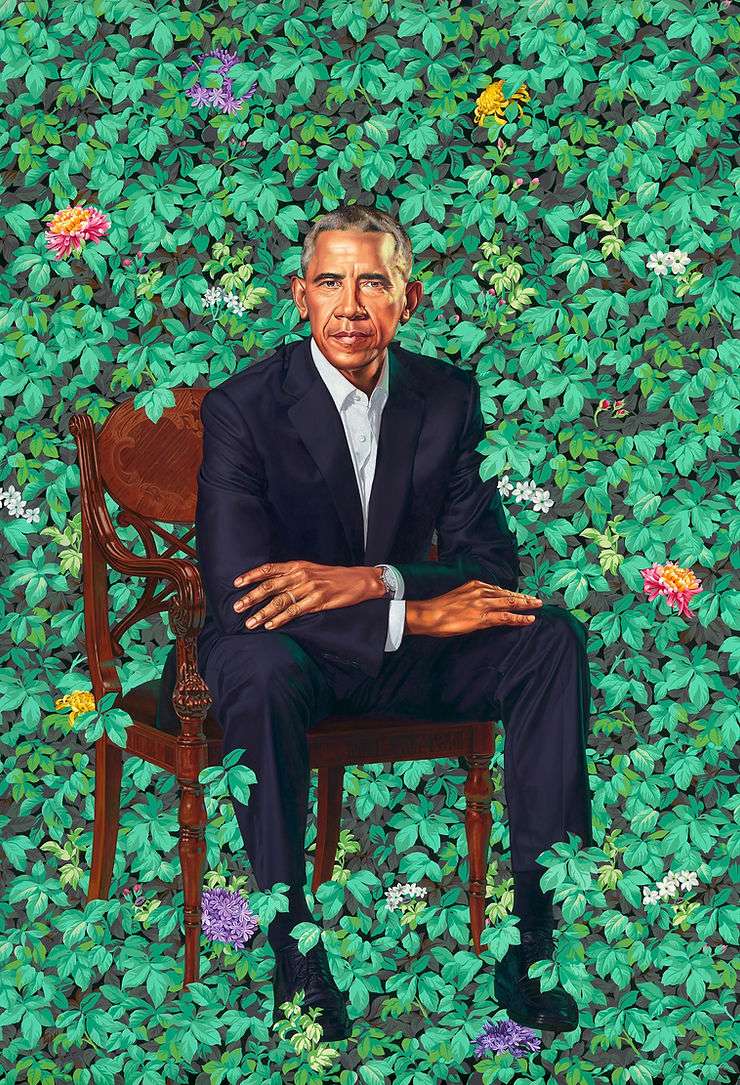 Being a sitter to an artist is no easy task. It takes hours of discipline, training and dedication to stay in one position for the entire duration of the artist's concentration.
But, the result is a meticulously beautiful portrait of you and your throne.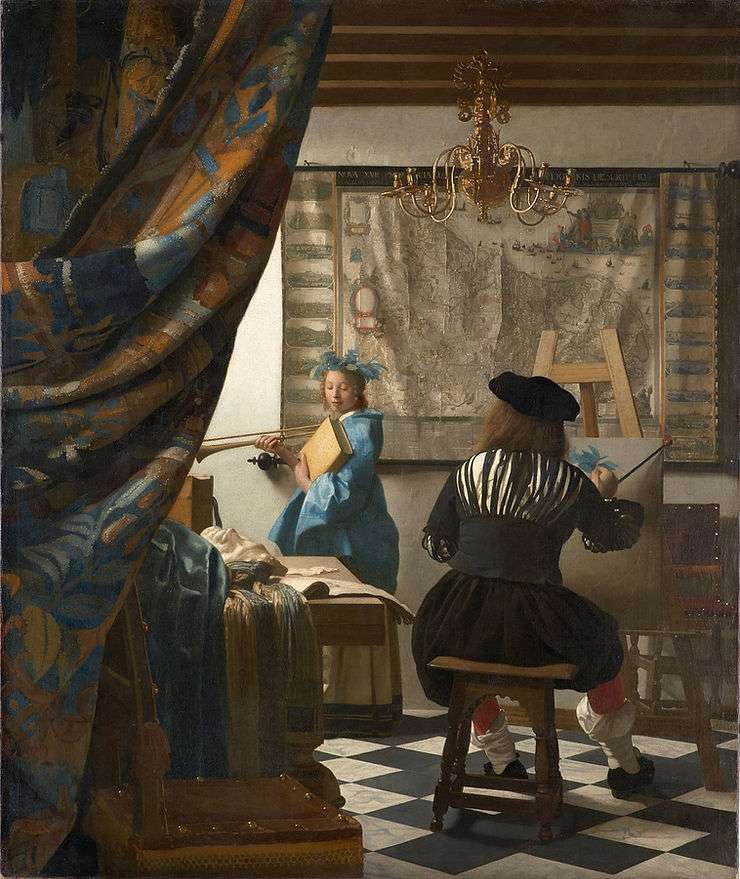 The discourse around the chair was not one that was given much thought until the ushering of Dadaism and Conceptual Art in the mid-1960s, when everyday artefacts such as urinals, chairs, wheels, and other rather un-thrilling objects were stripped of their physical and material importance to promote an air of ideological dismantling.
Influenced by new theories of language and significance, the Dadaist (inching closer to Nihilism) questioned the use of language and its significance in our everyday life.
Was a chair recognised as a chair solely because it is an object we sit on? Then wouldn't sitting on a desk make it a chair too.
While sociologist Jean Baudrillard examined our relationship with reality, symbols and their use in society, artists like Marcel Duchamp, Edward Ruscha, Man Ray, Nam June Paik, brought this kind of intellectual thinking into their art. In the Post World War II era, Modernism, Abstraction and Minimalism gave rise to a conceptual movement that retained Minimalisms' critical stance towards art forms and asked the viewer to critically think about the idea or intention behind a work of art. As Joseph Kosuth wrote in his essay Art After Philosophy, "Being an artist now means to question the nature of art."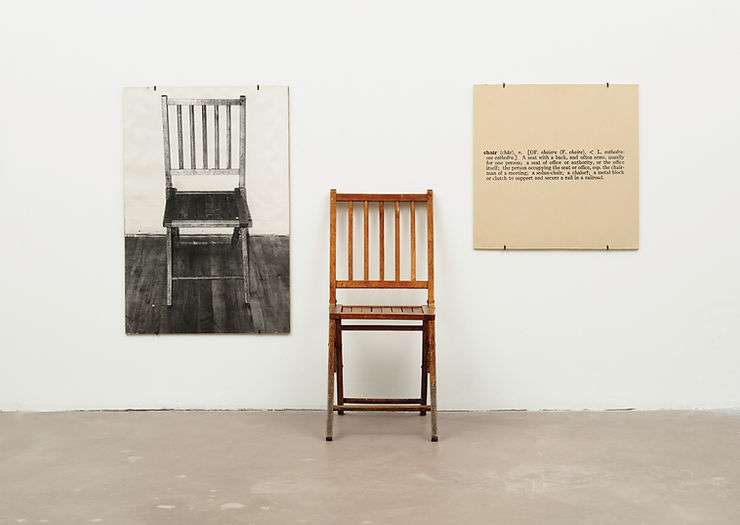 Bowing our hat to Kosuth once more, One and Three Chairs by Joseph Kosuth was a defining work of conceptual art. A wooden folding chair against a wall and flanked by two prints: a black-and-white photograph of the chair and a xerox of its dictionary definition. The central idea that Kosuth presented to the viewer was to explore the idea of representation itself.
On viewing the form and object of the chair, we recognise instinctively what the object in front of us, the "chair", is. But how would we conceive or communicate this concept? In this case, through the definition of the chair (the linguistic or language-based description) or the photograph (the image-based representation) of the object or the object itself in Kosuth's exhibition. They all represent the same thing but are three separate representations of the universal concept of "the chair".
A Bauhaus Design Solution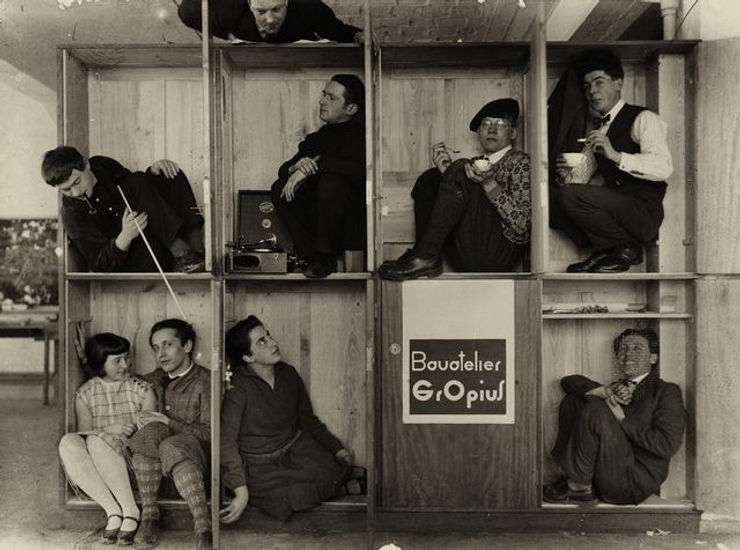 Considered modern renaissance, the Staatliches Bauhaus or 'Bauhaus' was a school that married art and design. At its core, it promoted a "reimagining of the material world to reflect the unity of all arts" — architecture, sculpture and painting coming together in a school of craftsmen, designers and ground-breaking artists, founded in 1919 by German architect Walter Gropius.
The school approached an innovative combination of crafts and fine art, becoming famous for revolutionizing our approach towards design and mass production – producing objects of every-day function with artistic vision and ingenious aesthetics. These objects heralded for their absolute beauty and functionality, are part of many museum collections that were shown across the globe, opening up influential avenues for a new wave of designs.
The National Institute of Design in India was built with the same founding principles not long after the Bauhaus made its first appearance in India in 1922, at an exhibition at the Indian Society of Oriental Art in Calcutta. The artists shown exhibited the vigour and uninhibited appetite that modern India was looking for.
Expressionist Wassily Kadinsky, an artist present at the exhibition immortalised his influence in the field of design by having a chair named after him.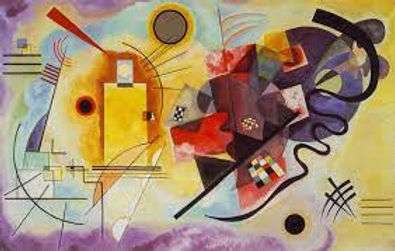 The air of curiosity and innovation that the Bauhaus brought in permeated the field of art and design as it had intended to, with cross-pollination seen across the entire spectrum of the visual arts. The Wassily Chair, made by architect and industrial designer Marcel Breuer, was given the title "Wassily" after a curious Wassily Kadinsky expressed his excitement towards its design when it was first made. The traditional overstuffed club chair has now encouraged a long line of designers.
Now part of the Architecture and Design department of The Museum of Modern Art, the idea for the chair came to Breuer when he was inspired by the light-weighted malleability of his bicycle handlebars.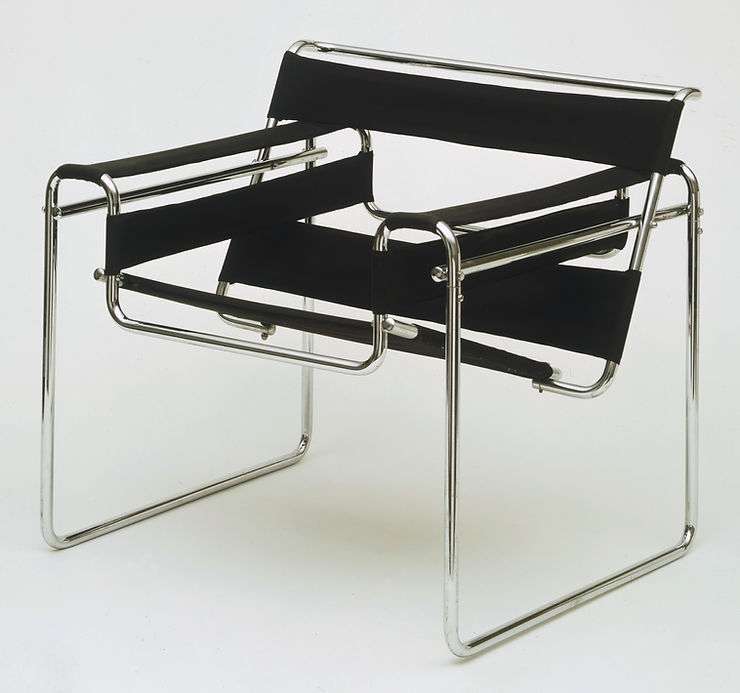 Museum Worthy Design History Contemporary Industrial Design & Artists Who Revolutionized It
Design historians have paid close attention to timeless design – the melange of creativity, innovation, and re-invention of the status-quo, who would consider revolutionising a plain plank of joint-wood?
Industrial design has been understood as existing in isolation and craftsmen spending time in their workshops were the only ones that dabbled in commercial questions. But this has been proven wrong by artists, sculptors, architects and painters alike; the concerns of the human mind never move in a singular direction.
Isamu Noguchi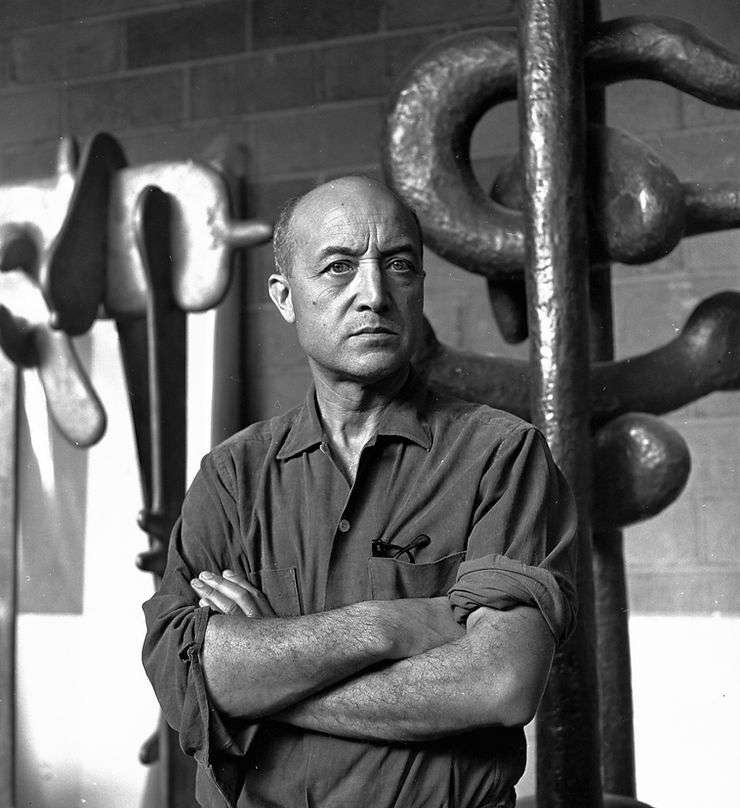 Noguchi, American landscape artist and sculptor, is a fine example of the cross-pollination in the arts. One of the twentieth century's most influential sculptors, Noguchi's practice was characterised by artistic experimentation and an extensively stamped passport. Impacted by large-scale public works in Mexico, his dual Japanese and American hereditary, subtle ink brush techniques learnt from his visits to China, and earthy ceramics, were all incorporated elements in his work.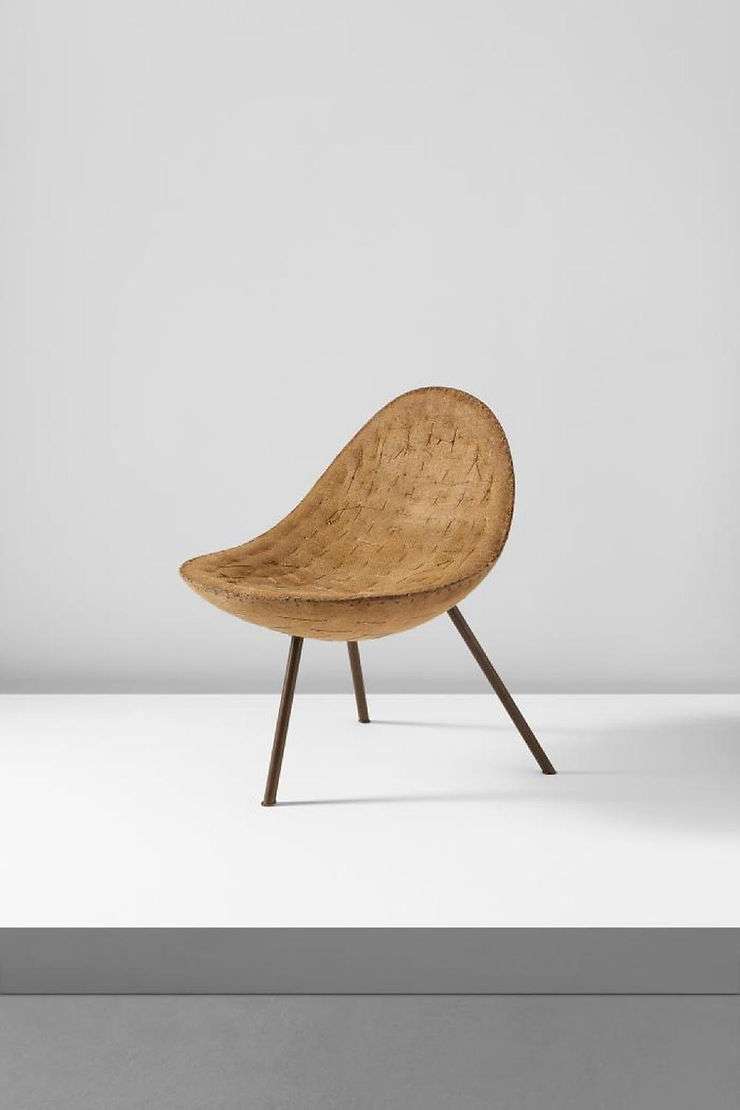 The Bamboo Basket Chair was a collaborative design by Isamu Noguchi and Isamu Kenmochi; the design was never fully realised and remained a proto-type for many years until The Noguchi Museum and Kenmochi Design collaborated on creating a limited production of 50 examples. But, it is the eponymous Burden Chair by Noguchi made for the seaside residence of art collector, and prominent banker of the 1940's, William A.M Burden, that went on to influence furniture designs and experiments by Danish designers Arne Jacobsen and Kjærholm.
George Nelson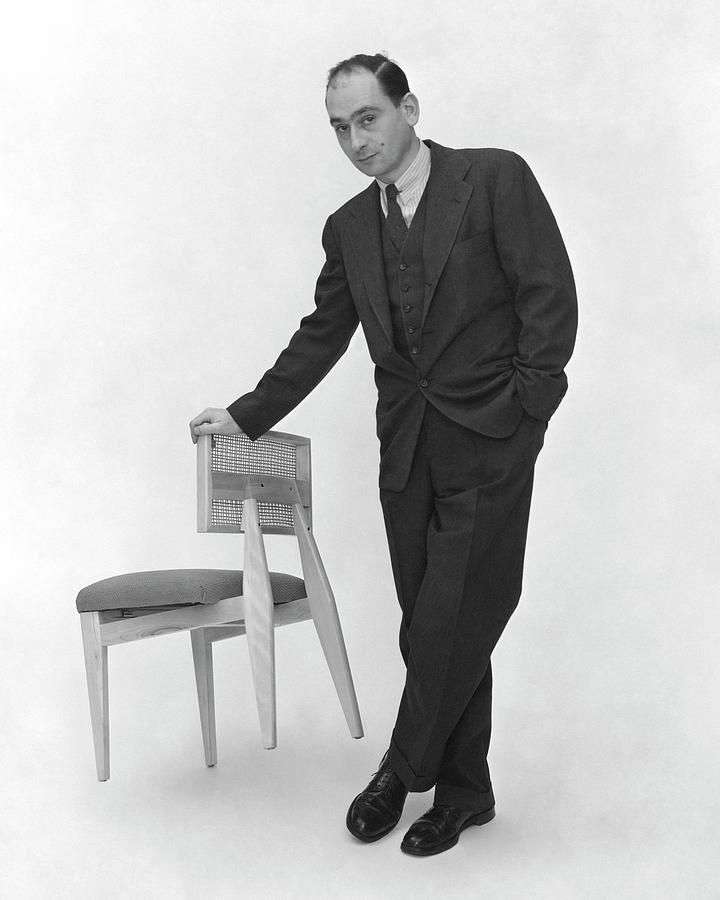 Founding father of American Modernist Design, George Nelson was the lead designer for Herman Miller, revolutionizing modern furniture design as we know today.
Nelson is responsible for writing and popularising European Design and bringing it to America. Drafted into Herman Miller, Nelson was made the Director of Design to use his extensive insight as a designer-writer to usher in a new wave of innovative and useful furniture. He held the post for 50 years, and even employed several designers such as Ray and Charles Eames, Isamu Noghuchi, Richard Schults, who worked under Nelson to create the most iconic designs of the 20th century.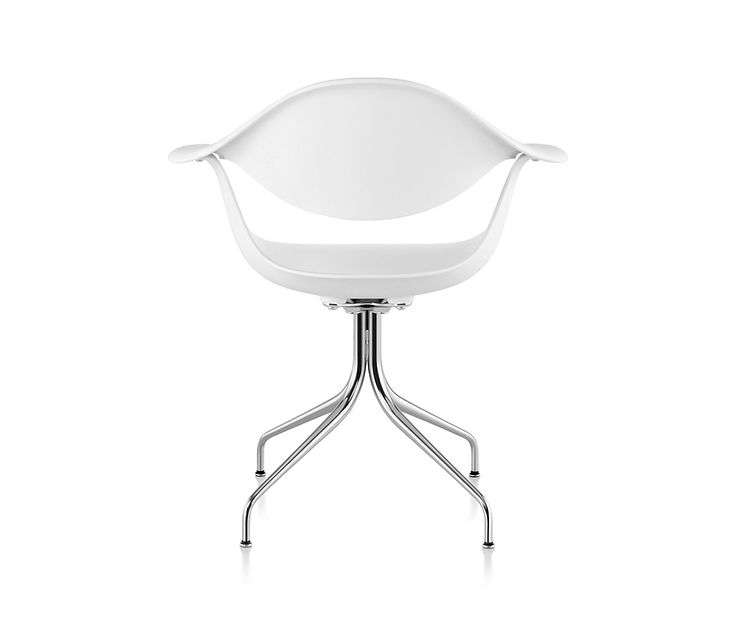 Using Charles and Ray Eames's patented plastic moulding system, Nelson married ergonomic design and aesthetic invention by creating a flexible ventilated shape with a separate back and seat that were glued together, accompanied by adjustable gliders for an optimum seated height. Named the Swag Leg Chair owing to the manufacturing process of swaging – a process that bends and tapers metal through pressure – his designs have been recognised for their sculptural qualities and biomorphic design, and are available on MoMa's Design Store.
If your home has a designated family room and storage wall or integrated wall-bookshelf, that was the ingenuity of Nelson's mind.
Charles and Ray Eames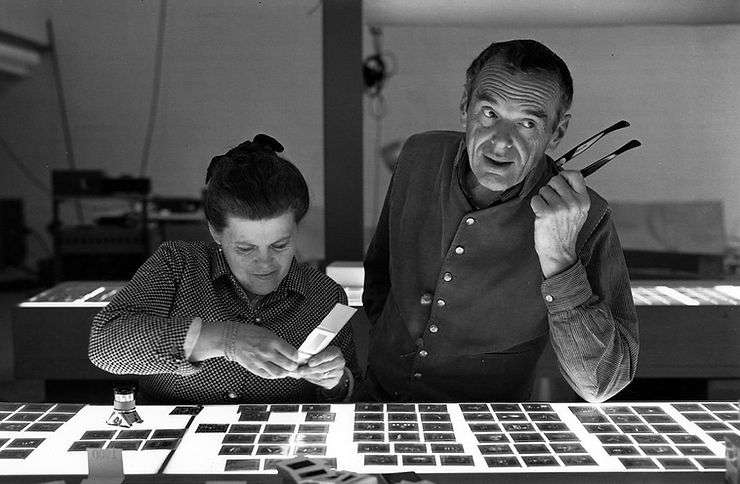 Charles Eames confirmed our beliefs that good design goes on to become art. The dynamic design duo and couple Ray and Charles Eames used colour, style and design to communicate and reflect; a sort of extension of their life and thinking. Consistent design solutions were a constant in the couple's long and celebrated career.
Calling themselves tradesmen for their innate desire to help create lasting-functional design, their ability to blend in subtle choices of colour and style made their designs a household necessity in America post World War II.
Charles was an architect by practice and Ray, an artist. Their complimentary sensibilities made them an un-matched pair though at the time majority of the praise was handed to Charles, leaving Ray's contributions obscured.
A supportive Charles claimed with pride "Whatever I can do, Ray can do better".
The couple's energies and design aesthetics bounced successfully off one another creating products and designs that grew from their curiosity to discover and enhance the world they played in.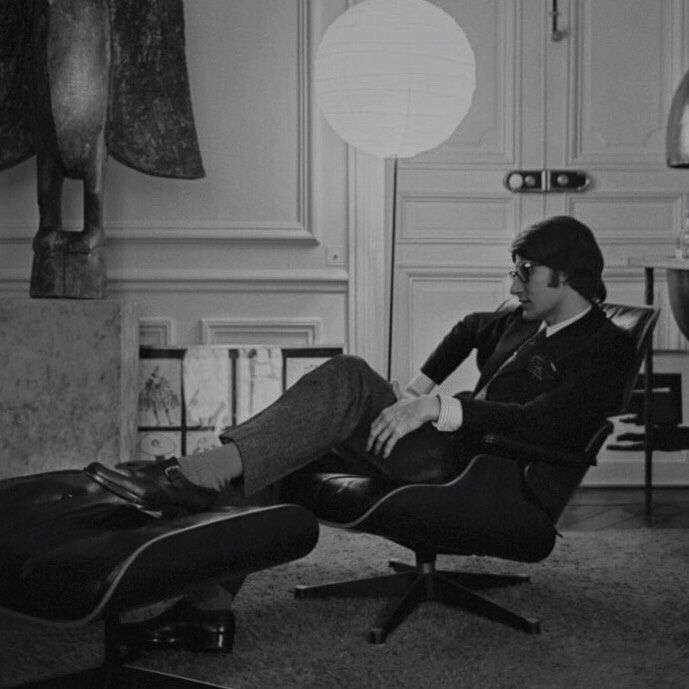 "An icon of American Design", the lounge chair is the example of quintessential American design that captured the global market. Part of the permanent Herman Miller collection, Charles & Ray Eames designed the popular lounge chair and ottoman from moulded plywood and leather. The chair is part of MoMa's permanent collection and was the first chair that the Eameses created to suit the taste of the wealthy and growing middle-class American. It has since represented modern living and design in America.
The Chair found itself part of a growing critical discourse of thinkers, artists, visual anthropologists and even fashion designers during the 20th Century. The days of Mad Men and designated office spaces moved from their previously sanctioned formats to an age of playfulness and pleasure.
Increasing work-from-home lives now demand rigious hours fastened onto our chairs, and celebrated collaborations between large fashion houses and growing creatives are taking over the market.
Even collectors have pallated a shift to chairs as venerated collectibles and ornaments rather than objects that require a fair amount of use, and wear and tear.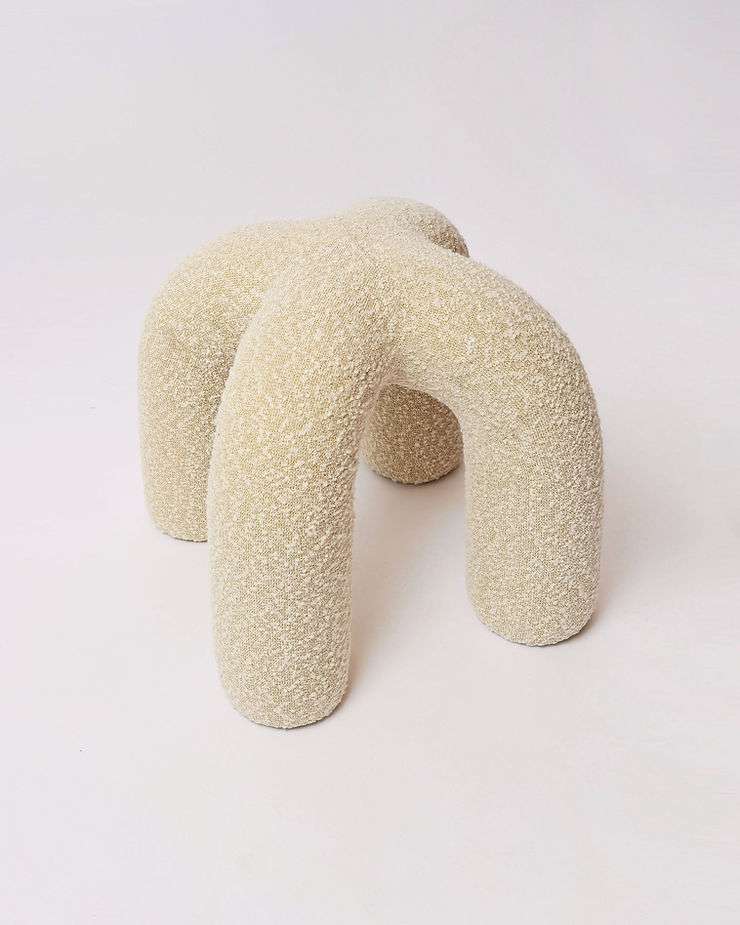 A chair that has caught our attention has been the childlike, textured furniture designs of Eny Lee Parker, whose recent stardom has been celebrated in certain interior design circles. The Stitch Stool with its upholstered seat and arthropod curvy legs is also available as a ceramic piece, signaling an extension of the artist's own experimentation with art and its mediums, as well as the market's acceptance of new, funky designs.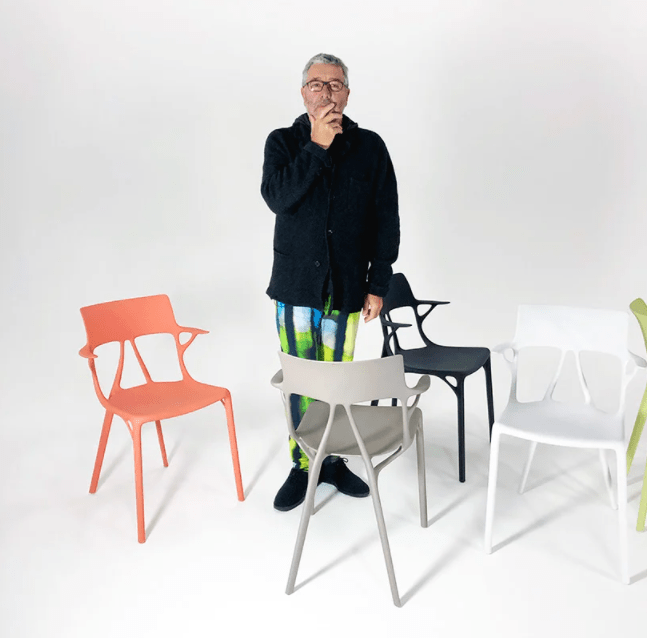 The Future of Design: Artificial Intelligence
Launched during Milan Design Week 2019, Philippe Starck revealed the worlds' first Artificial-Intelligence-created chair that functions on Autodesk's prototype software and employs using minimal material and wastage. Exploring generative design, a design process that allows designers and engineers to input their design goals along with other controllable parameters such as material, manufacturing methods and cost restraints. We watch AI working in collaboration with human beings to create new and innovative ways of re-imagining existing ways of thinking.
As Artificial Intelligence allows humans to find the most equitable way of producing and innovating, it's no surprise that Phillipe Starcke's newest design applies the technology's latest developments.
Philippe Starck describes the process as "a lot like having a conversation".
Technology, creativity, and experimentation has opened up multiple possibilities for a new visual language and the best type of exchange between artists, designers and innovators. The idea of the chair has been dismantled, challenged and re-created since its inception from DIY options on a long-Sunday morning to the latest developments in technology.
Sustainable methods and cycles of production are what many artists and product designers are moving towards with their work and 2021 has seen a rise in these imaginative and resourceful creations that we can hope to enjoy in the future!