"Art exists where language fails"
– Sheila Pepe
Art has been the mantle of protection for the queer, eccentric free-spirits of our society. Despite being pushed to the fringes, these free-spirits have always found a way to seek comfort in colors and togetherness. Aravani Art Project is one of those few spaces where queerness has found a shelter, and an opportunity for free expression and self-establishment.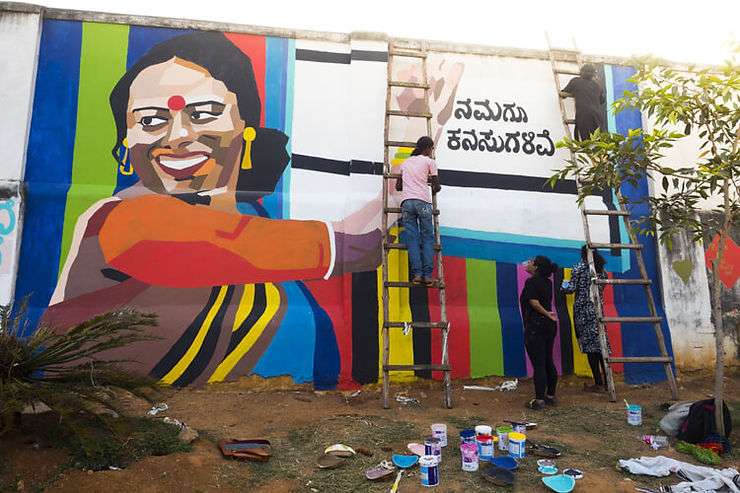 Formed in 2016, this collective has attempted to spread awareness and spark conversations around social perceptions of the transgender community through street art. Transforming walls from agents of division into spaces of connection, founder Poornima Sukumar and along with her team have striven towards creating safe spaces for queer voices through art. Largely based in Bangalore, the collective has collaborated with and painted walls for several private organisations and spaces across the country, such as St+Art India, Khoj, Soho House, Mumbai, Lodhi Colony in Delhi and much more.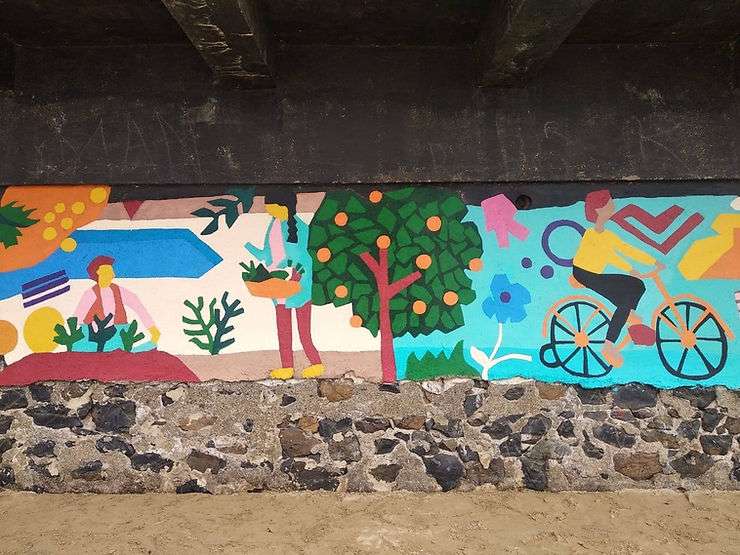 Joining them in their fifth year of breaking barriers and creating more gender-inclusive spaces, Art Fervour converses with Poornima and her inspiring team on their creative journey of sharing dreams of freedom, transforming suburban spaces, gender equality and their upcoming projects.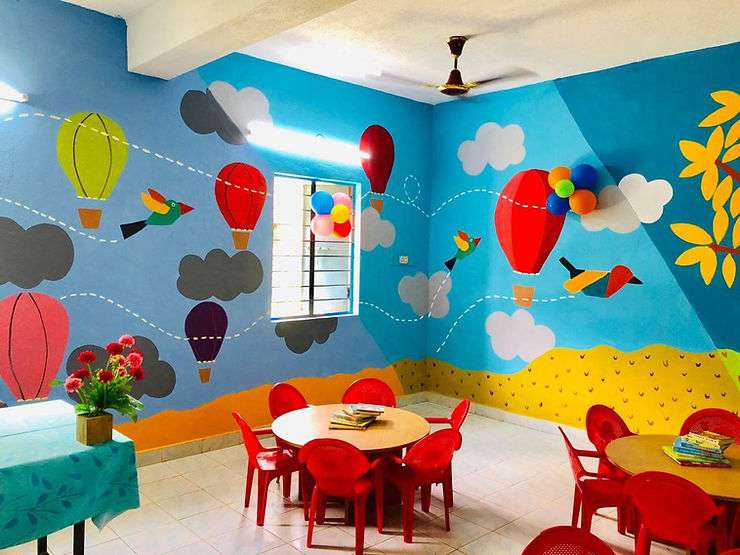 1. Could you tell us a bit about what led to the inception of the Aravani Art Collective, and how it has evolved over the past few years to become one of the leading queer art groups in India?
Purushi: So, I was working on a documentary and Poornima was a part of it. But somehow because Poornima and I shared a lot of special moments, we became very good friends, and initially we discussed this whole topic about wall painting and the arts. I did not understand much but just [based on] the sheer trust I had in her, I invited all my friends from the community one day to paint a wall at K R market. It all unfolded from there and we have built this group on a strong foundation which is made up of friendship and trust. We hope to continue [in] the same way, despite the challenges.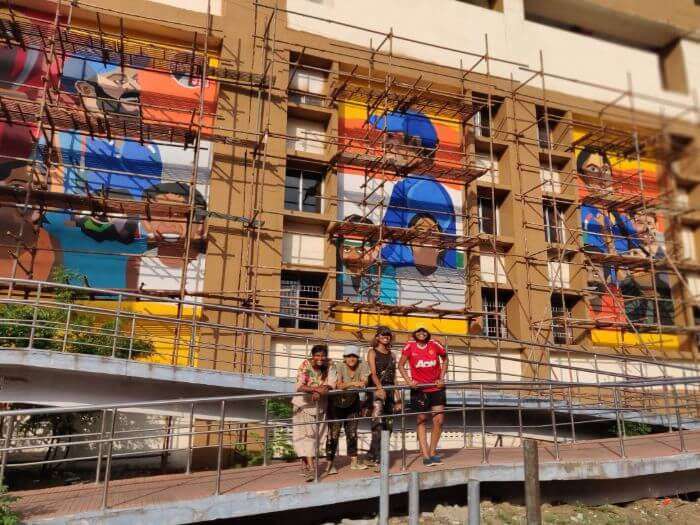 Poornima: Our collective – or [as] I'd like to call it, family – has been organically growing and blessed with connections across the world. Of course, more within India. 'Trust' is the most important component of this collective.
The people from the transgender community in India form a strong network, and once they are aware about the work and its premises, then it becomes easier to trust each other. We are actively involved in [the] everyday lives of some of the people from the transgender community. We respect each other's lives, help with their mental health and build a stronger relationship based on friendship and mutual trust.
The projects mainly involve the community collaborating with other artists and fellow society [members] to join [us] as we paint a mural together to create social participation and a safe space for conversations. Art meets activism as we paint about issues that prevail within the given geographical space.
Through our projects, we intend to capture stories of freedom, dreams of acceptance and hopes for possibilities. We hope to archive the cultural nuances, like traditional practises, language, songs, myths and stories of the community, since it remains very vibrant and un-explored.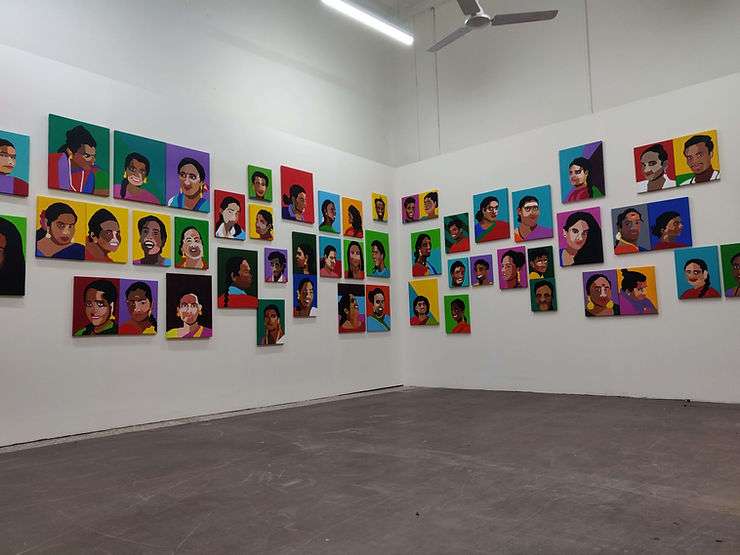 2. In your experience as a muralist and community artist, what were the challenges you initially faced when you began the Aravani Art Collective? How did you foster an enthusiasm towards visual art within the transgender community?
Poornima: I was part of a process that only involved the transgender people to answer questions on the camera about their life, joys and sorrows; just off the camera, I found time to bond with them and it was effortless! Something about my own mental health and the situation I was in, in my personal life, allowed me to empathise and heal by listening to their stories of bravery and hope. It felt surreal to me that our society was losing out on some incredible people to learn from.
After being a part of such a process for almost 3 and a half years, I dealt with extreme guilt and the urge to do something for the wellness of the people from the community. I felt so cut off from my own family and friends for not being able to understand the people from the community. I felt a sense of responsibility to be able to do my bit.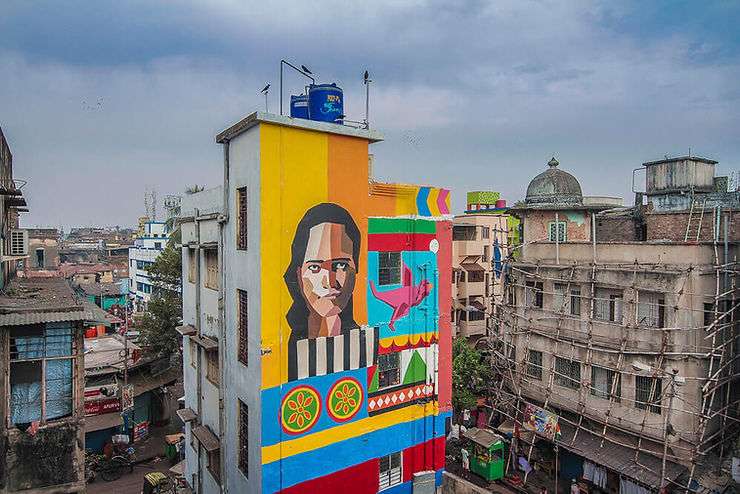 3. Aravani Art works on a single project at a time and till now you have executed mural projects commissioned by St+Art India, Soho House Mumbai, Levis HQ, Microsoft and more. Would you like to take us through the process of sketching out the visuals for a project and making sure the final mural is in alignment with the message?
Sadhna (Art Director) : Our artworks during the initial stages were very colours and shape oriented, just like a regular art class, except we were all learning it on a wall directly. Our visual style took shape with our first mural in Bangalore. We started by painting faces/ portraits of trans-people because we felt that it was the face that society was shunning. Our work has moved forward manyfold. I love the way and the pace we have arrived at. Our art conveys stories by the trans-people, their rights, what they love, what they dream of, their views and anecdotes about the society, their history, culture, tradition, sometimes their friends, neighbours or allies. We intersperse these with lots of patterns that are inspired by our beautiful country. We love beautiful flora, fauna and patterns inspired by everything around us.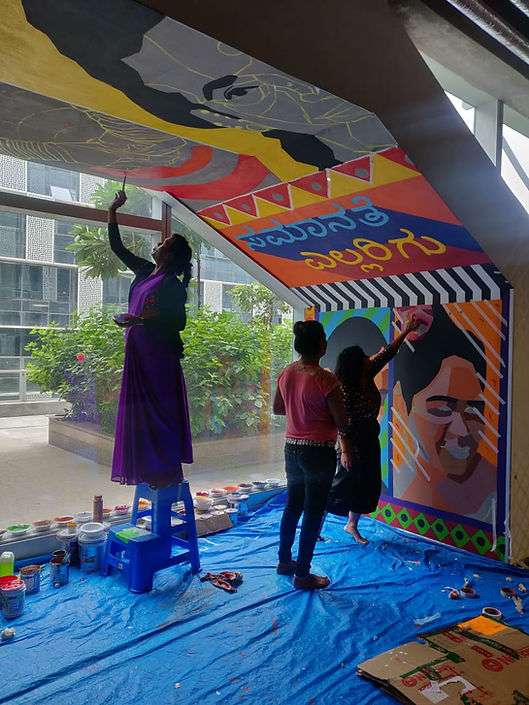 The process for each of the projects differs because there would be the stakeholders involved. Not all walls painted bear the message of gender equality. Some walls are commissioned and the themes may differ. For every project, we discuss with our chosen trans-artists the nature of the project. Some projects that are very community focused will be only in collaboration with the people from the community. When the project has specific deliverables, we consult [with] or engage relevant artists from the team.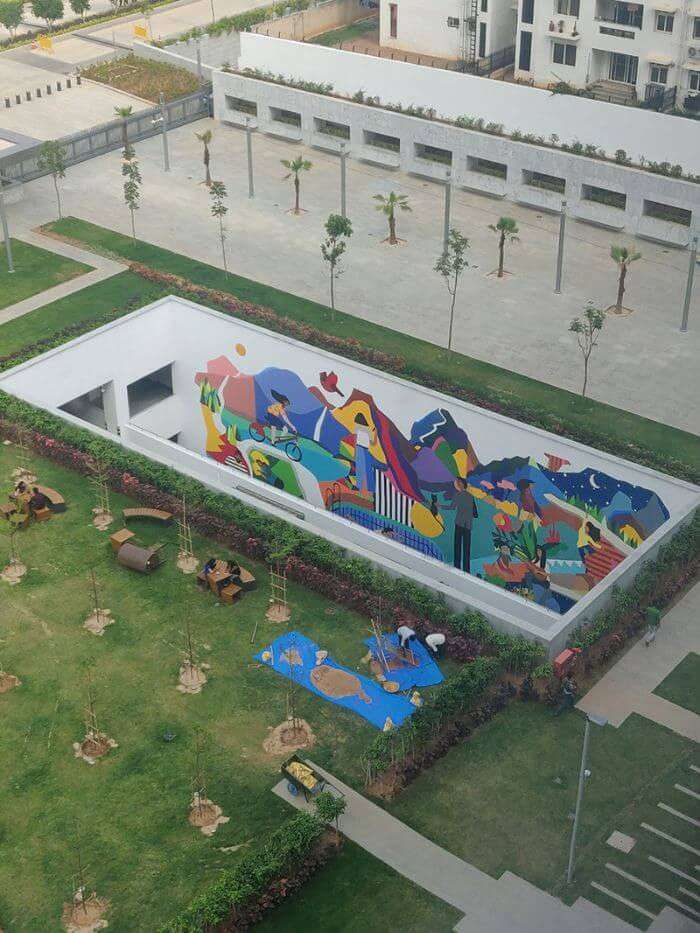 4. Despite the abolition of Article 377 and the yearly Pride celebration by the community, there is still a lot of animosity towards transgender persons in our society. How do you think street art can be employed to inculcate a more gender friendly environment within urban spaces?
The rule of law is supreme, and everyone is equal in the eyes of [the] law in India. Yet, the transgender community is in a constant battle as they have to fight oppression, abuse and discrimination from various parts of the society, whether it's their own family and friends or society at large.
We create safe spaces for [the] transgender community through art. We examine their spaces of innovation, the places of their history, and create room to learn by transforming this knowledge into public art. The streets are a particularly important place to do our work, as it is in these public spaces that the bodies of transgender-identifying people attract violence, harassment, social negligence and pressure. Our creative collective seeks to respond to these experiences by creating spaces that instead encourage exchange, discussion, openness and debate around gender identities.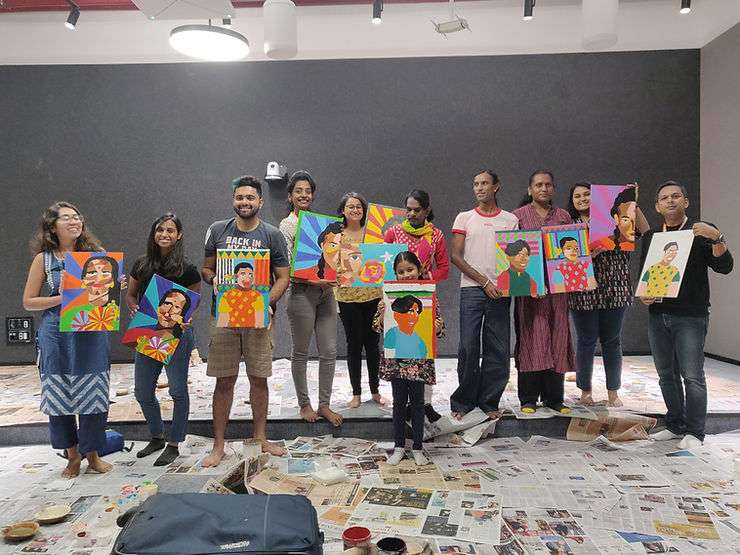 The visibility of the transgender figure has begun to disrupt long-held beliefs about gender. By making art together we are seeking to gently reshape these politics of inclusion and exclusion that surround gender identities.The struggle for accepting and understanding the identities of transgender individuals exists in each society, race, and class.This includes, among many other categories, those people who identify as a transgender woman, a transgender man, gender variant, gender non-conforming, gender non-binary, gender fluid and gender queer and more.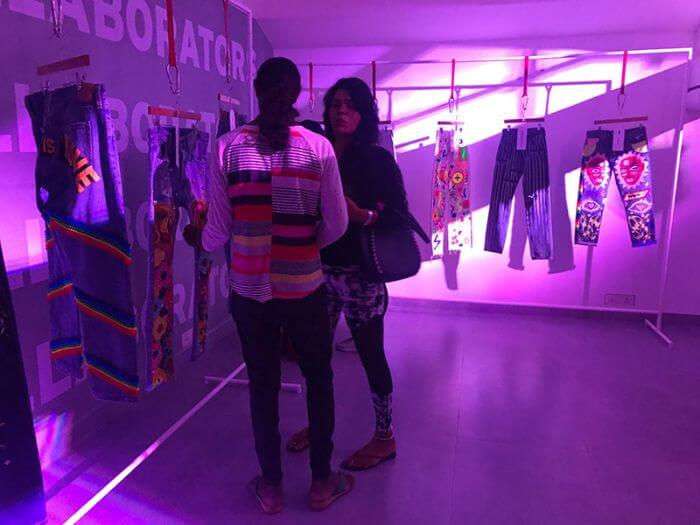 5. Would you like to share some stories from some of the works the Aravani Art Collective has done over the past few years, and your biggest takeaways from those?
Every single project we have worked on has been extremely beautiful and adventurous. We could summarise a few of our experiences. From our very first wall at K R market, to our most recent painting on the walls in Mumbai; every wall has a different memory, challenges, hardships and [was] so much fun!
We try to encourage everyone to come to the wall with no personal baggage: as it is the only space we get to enjoy and just be. However, we are all human after all.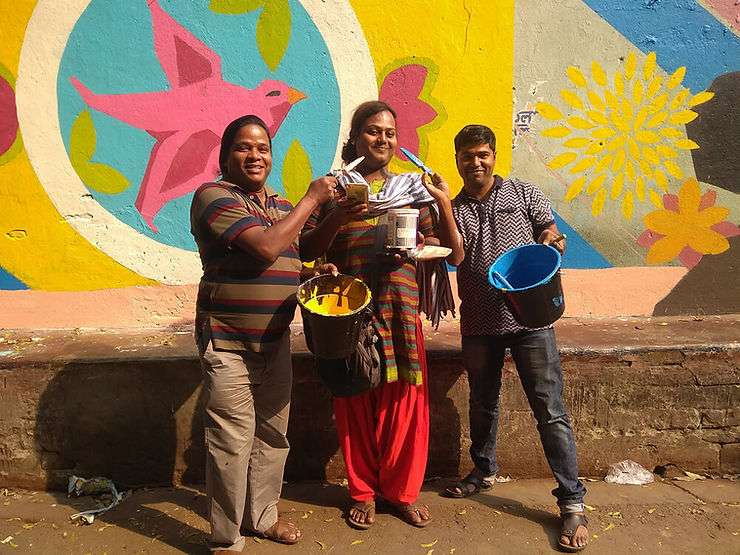 A lot of times, the people in the public front always look at us with doubt when we are working or when the wall has just begun. They always look at us in a way that we know that they are teasing us. By the time we finish the wall, their perspective about us changes 10-fold. This gives me immense pride. We have had some problems with the noise, the weather and the traffic in a public space. Sometimes it is tough to cut off and work.
Some basic challenges which are positive are the height and the scope of our work [with] every new wall in a public space. But the pleasure of reviewing, revisiting or passing by any of the walls we paint brings a big smile and we relive all those memories in a flash.
6. Given the variance in the Indian culture, there are several ways of addressing socio-cultural issues through visual arts and performance, and bringing communities together. How do you think emerging artists/art collectives and organisations can work towards a more gender inclusive society?
Since the transgender community in India are so rich in culture and vibrant, the attempt to push this to a way of art will enhance and emphasise certain issues that might reduce the risk of stigma and violence.
Any artist or an art project in collaboration with the people from the community will also lead to an approach towards a modern cross-country relationship and prominence towards building a world without discrimination and hate.
The transgender community all over the world is in need of support, acceptance, good exposure, and most importantly, art.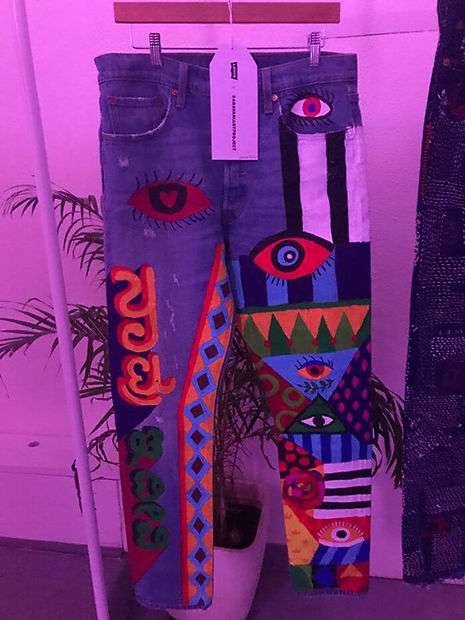 We are slowly enabling different artists and more people from the community to participate and encourage each other to speak up and voice out issues like discrimination, mutual respect and rights over one's body and presence. We do this [by] using some beautiful stories and historic facts about having gender-liberal, mythological and religious facts that existed in harmony.
The realisation was that in a country like India and across the world, women are finding it difficult to stand up for other women. We are creating a long-lasting impact where women and men(as artists) are standing up for transgender people and other marginalised communities, which re-shapes the whole gender movement and its sense of inclusivity.
Of course, there is so much more to be done and that could be done.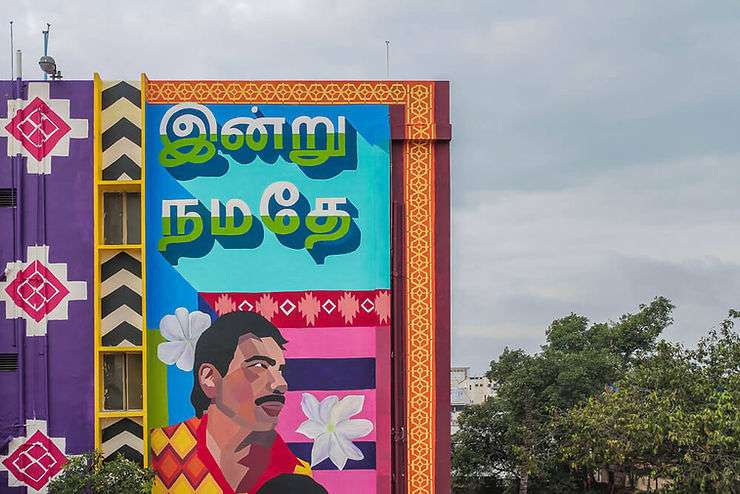 7. How has the journey of working within Aravani Art Project and broadening its possibilities moulded your perception as a visual artist? Would you like to share with us what is next for the Aravani Art Project?
My journey thus has been so much more about exploration and research which is extremely addictive. As a visual artist, I have not grown personally, and I am absolutely alright with that. I am more than happy to think with and for a collective and make art together.
Our work started as an expression and experiment, using Art and Friendship as instruments for social justice activism. We started re-claiming spaces as cis-women, trans-women/men and queer people to make a point. While we reclaimed it using art as a tool, our audiences were quite diverse, participative and enquired about everything we were doing.
To begin with, people were very open to conversations and sometimes participated in the course of the painting. This developed a sense of respect and awareness between local communities. Our most essential part of the project is to stay in touch with the trans-community locally. Every chosen city/town will involve the artists, women and trans-people from that region.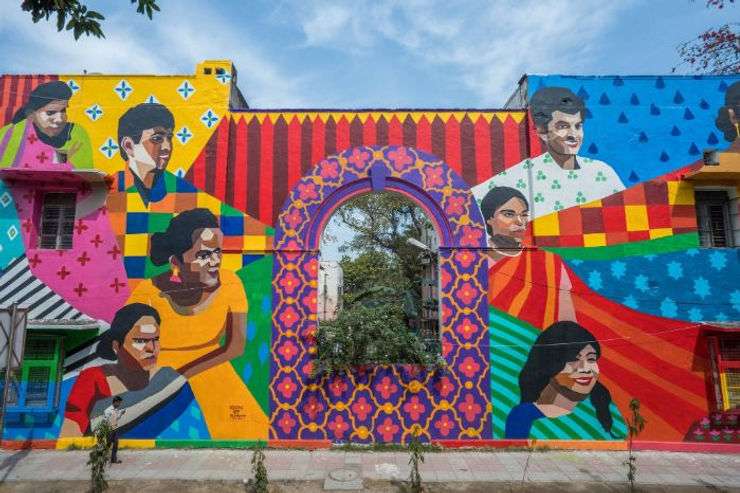 The sheer fact that we have lived through 6 years of the collective by working on all kinds of projects that were commercial, community based, sometimes deeply engaging with the public, some beautiful grants, digital media, book covers, almost 60 wall projects in public spaces, big corporations, schools, hospitals is enough proof that we are celebrated for our work, for the people who do it and more.
In terms of what is next for us, we are taking things a little slow. The pandemic has affected all of us in very different ways. But we will have a lot of art to buy and hopefully slowly start with wall projects as well. We have some interesting culmination of some projects that will be released as a website – Podcasts, Graphic novels and GIFs. Best follow our Instagram page, we are super up-to-date on that!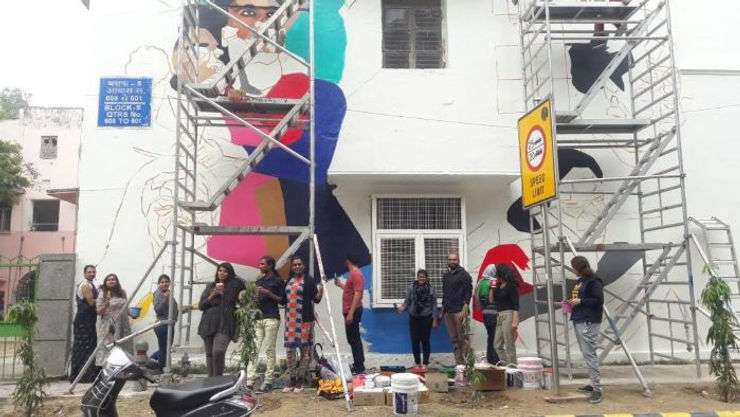 Celebrating Aravani Art's dream of breaking barriers with art, we have high hopes for them as they recover from setbacks due to the pandemic and continue building more safe spaces and a gender-inclusive world.
Explore the practices of more such path-breaking artists who have freely expressed their sexual identity through art here.
All images are courtesy of the Aravani Art Project.