A CRASH COURSE AT THE YOUNG COLLECTORS WEEKEND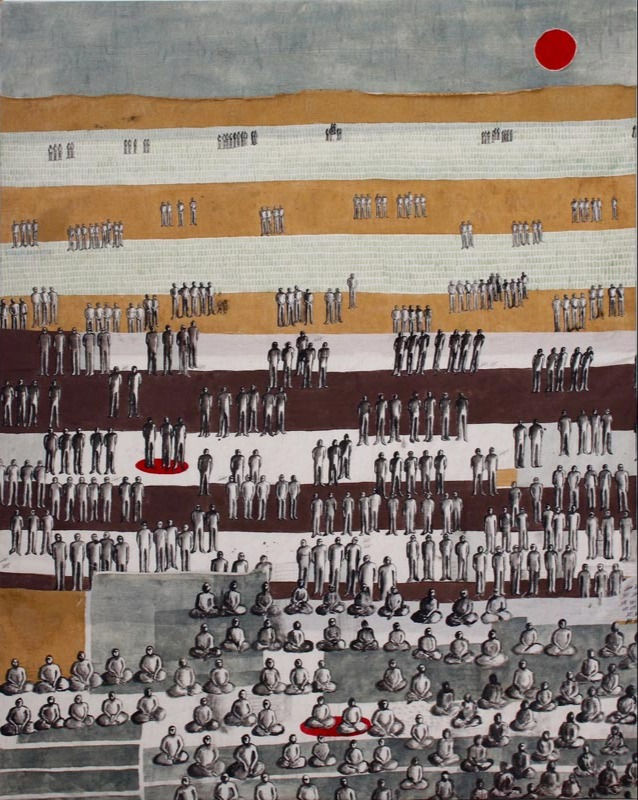 Cultivate Art and Teesta Bhandare are booking your weekend with their debut event the Young Collectors Weekend (YCW) — a 3 day programme consisting of a virtual gallery showing 15 emerging young-to-mid career artists from across India along with a host of informative knowledge sessions that are specially tailored to introduce the viewers to the mysteries of art collecting while also aiding them on the building a meaningful collection that speaks to their personal tastes and preferences.
The sessions focus on introducing viewers to the how's and why's of art collecting, showcasing the varied art collections across the globe and what they look like with insider tips and tricks, ending with illuminating conversation between gallerist, Marc Straus and former Vogue India Fashion features director, Priyanka Khanna.
All the speaker sessions are held on Zoom pivoting from its initial offline edition, due to the constraints of the pandemic. A blessing for young collectors who are playing with the idea of building their own collection, the YCW is a great starting point to demystify the artworld and gather insights into what building a meaningful collection might entail.
Tradition follows as seasoned art collectors encourage others in their family to begin their own personal journey with art, or one might also be looking at art acquisition to be passed on as an heirloom in the hopes that this collection will reflect the growing tastes of the family.
A novice or an expert, the line-up of sessions and the diverse selection of artists present at the Young Collectors Weekend points at the symbiotic relationship that artists and art collectors maintain and this is precisely what Farah Siddiqui, who co-founded Cultivate Art with Arya Misty and art lawyer, Teesta Bhandare are working towards. A clear goal of the Young Collectors Weekend is to bring together India's most talented artists with the next generation of collectors highlighting the need to facilitate these relationships to help grow and mature an ecosystem that has seen a gradual rise in India.
Who is this event for?
Artists, art collectors, interior designers, architects, writers, arts researchers, corporate organisations and art lovers alike.
VIEW THE STELLAR LINE UP OF EVENTS BELOW –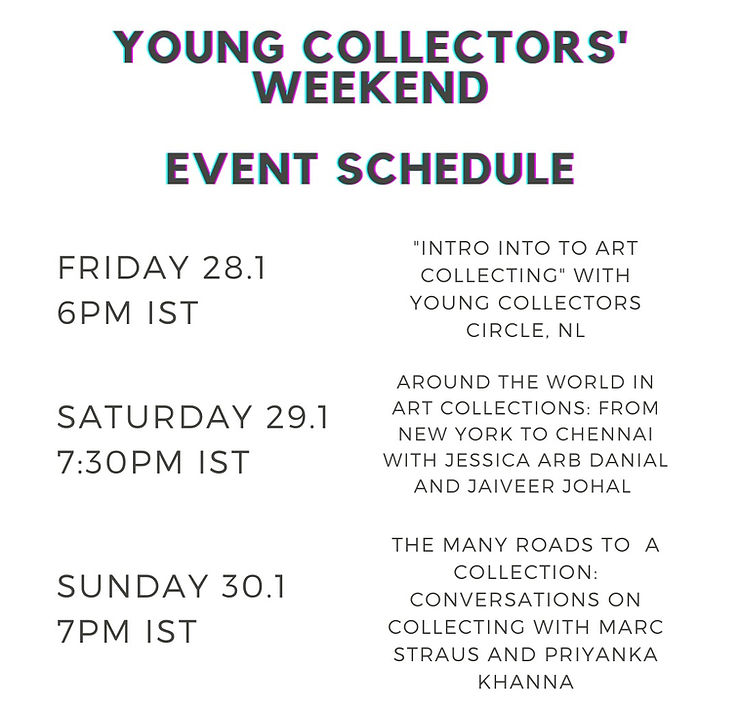 DAY 1
Intro Into Art Collecting, with Young Collectors Circle, NL
28th January, Friday
6 PM IST
From Mondrian to the Masterpieces of today: this mini masterclass 'Intro into Art Collecting' takes you through the how and why of buying art.
Can you collect art if you don't have a fat bank account?
Is it bad if you have no knowledge of art history?
This session touches on the larger neurological reasons as to why we love beautiful pictures and explains why contemporary art makes us look at the world differently.
You can register for the event here.
DAY 2
Around the World in Art Collections : From Brussels to Chennai with Stephanie Biliard and Jaiveer Johal
29th January, Saturday
7:30 PM IST
Young collector Jaiveer Johal and Art Historian Stephanie Bliard share insights into their individual collecting practices and define what it means to be a young collector today.
Attendees will get a chance to view their collection as well as their collecting tips and tricks showing us what it means to be an international art collector today.
Register for the event here.
DAY 3
The Many Roads to a Collection: Conversations on Collecting with Marc Straus and Priyanka Khanna
30th January, Sunday
7PM IST
Oncologist and gallerist of Gallery Marc Straus, Marc Straus and former Vogue India Fashion features director and soon to be published author, Priyanka Khanna exemplify that collectors can come from all walks of life. Sharing their expert advice garnered from their colourful careers and lives as art collectors they talk about their journeys and offer their insights into galleries, dealers and all things art collecting.
You can register for the event here.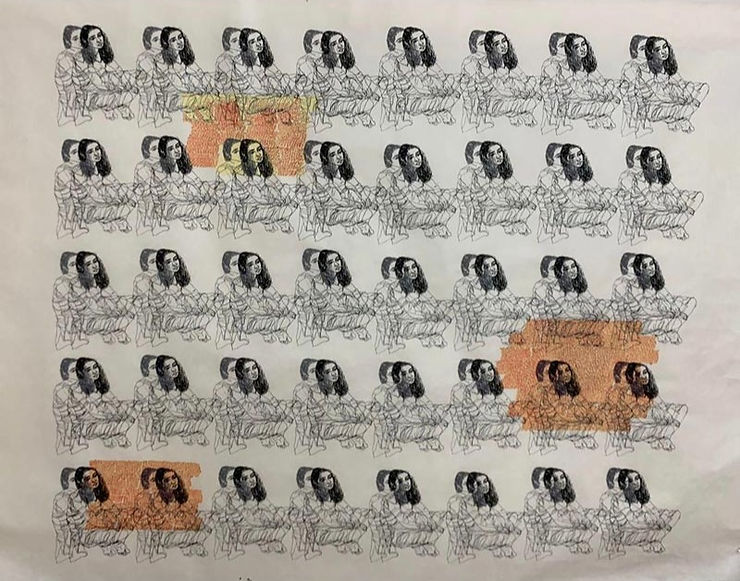 An exciting round-up of speakers and sessions, the Young Collectors Weekend releases its first edition of events along with a virtual gallery found on their website.
View their selection of artists with standout names Al-Qawi Nanavati, Avani Bakaya, Digbijayee Khatua, Harisha Chennangod, Hashim Badani, Kaushik Saha, Purvai Rai, Puja Mandal, Sujith SN and many more working in different mediums, styles and practices that encapsulate the breadth of Contemporary Indian Art to dive into.
For a round up of current events, exhibitions and workshops like this, visit our Digital Art Guide to stay up-to-date with the latest happenings in the artworld.